Intex has release a new gaming phone in the market named as Intex PLAYER and they have not talked much about the hardware in terms of processor and RAM of that phone, through the phone has been priced at 2,790INR but it has got 1000 pre-loaded games which can be played with the help of two dedicated soft gaming buttons on the top of the screen. Now gaming phone does not mean that at this price you will be able to enjoy high-def games like prince of Persia or Assasin's Creed, which you must have played on your PSP but basic games with loaded of variety. Now let us take on the hardware specifications of this phone.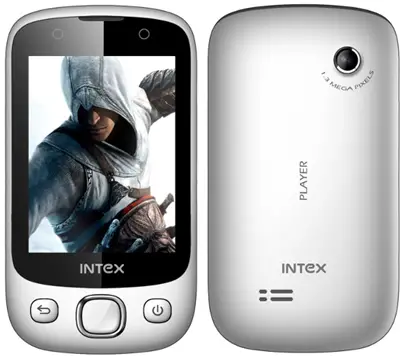 The size of the screen is around 2.8 inches (quite small for a gaming phone) but as mentioned earlier they have not mentioned anything which can describe the power of this phone. You should also know that this is not an Android Phone, Intex have launched their OS version named as SENSE 3.0 which is used on this phone. The phone is a DUAL SIM and it has got a primary camera of 1.3 MP with no support of front camera (most probably the space of the secondary camera has been occupied by the gaming buttons in the area).
The battery strength is of 1200mAh, which is really good with this size of screen and it can provide you the continuous gaming time of 4 hours with the stand-by time of 200 hours. The internal memory available for the user on this phone has not been specified but this phone will come along with 4GB external memory support (but it can extended up to the limit of 32GB).
Specifications and Key Features
Processor: Not mentioned
RAM: Not Mentioned
Display Size: 2.8 inches
Software Version: Intex Sense 3.0
Camera: 1.3 MP
Secondary Camera: Not Available
Internal Storage: Not Mentioned
External Storage: up to 32 GB
Battery: 1200 mAh
Connectivity: Bluetooth, Micro SD slot, FM Radio and 3.5 mm jack for the headsets.
Conclusion
The price of the phone is really low and specially designed for the users who love to play games whenever they are free or travelling. This phone is a good option when you do not want to go for Android but we cannot comment much of the other features related to social applications on this phone as this OS is not much popular among the phones. There is also not info about its availability but we will keep you updated with that.