Celkon has released their new tablet named CT-888 and this tablet is in direct competition with Micromax new Funbook tablet which has been released recently which are P360 and P362. The price of this tablet is 7,999 INR and at some points it has got better hardware parameters which justify its price higher than the Micromax Tablets.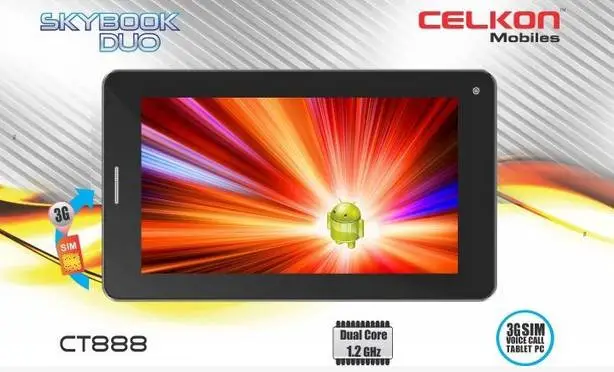 When talking about tablets then all of these three have the same screen size of 7 inches but when almost every other tablet has 3000mAh of battery strength, then this Celkon CT-888 jumps ahead in this case and has 3500mAh battery strength, so definitely it has got longer battery backup than the usual tablet by 16% (approx).
The camera specification of CT-888 is also similar to that of Micromax Funbook P360 which is 2MP camera at the back and VGA in the front. Again the processor in all these three tablets is same which is 1.2GHz of Dual Core Processor but Celkon CT-888 has less RAM which is 512MB when compared with the Micromax Funbook tablets.
It has also a SIM slot for serving the 3G connectivity and the internal storage of 4GB can be extended up to 32GB with the help of external storage device. Micromax Funbook P362 had Jellybean on the board but all the previous tablets by Micromax never had Jellybean and this Celkon CT-888 also has the same problem of older Android on the board which is Ice-Cream Sandwich.
You can buy this tablet from Snapdeal as it was the only available on the Facebook page of Celkon, please let us know if you find some other sources. As I told you earlier, it is better in battery strength but lacks behind in 512 MB (which I don't think is a big factor provided the processors are same) so you can choose between Micromax and Celkon as per the preference.