Samsung has continued to concentrate on the device with big screen and recently it has launched its new Galaxy Mega series which really have an enormous screen with the display size of 6.3 inches and 5.8 inches.  Initially from Samsung end, Galaxy Note, with Galaxy S3 and the Galaxy S4 was consider to have a big screen but the company want something more bigger. The Samsung Mega 6.3-inch phone is the biggest Smartphone yet.
Earlier this year, China's Huawai unveiled a 6.1-inch phone called Huawei Ascend Mate, but the Galaxy Mega beats it by a fraction of an inch and this shows that the race to build the biggest Smartphone has taken on a flavor now. This device appears to be intended as a more affordable media consumption device. It has a mid-range spec and an enormous 6.3-inch display.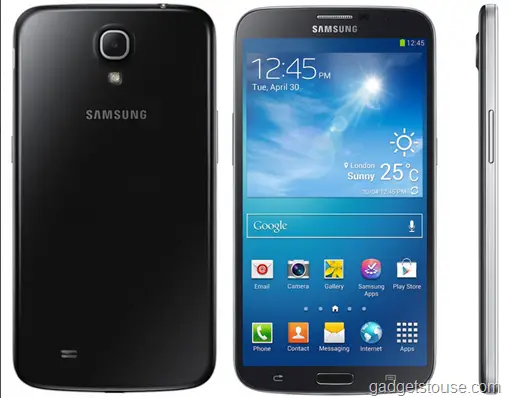 We can also see a good competition between the Google Smart Phone (Nexus 4) and this 6.3 Phablet. Google Nexus 4 is currently a well-liked Android smart phone because of its quality features, specifications and low pricing scheme but this 6.3 inch device could bring a danger to the likes of Nexus 4.
The Nexus 4 is powered with the quad-core Snapdragon S4 processor clocked at 1.5GHz an supported with Adreno 320 GPU where as  Samsung Galaxy Mega 6.3 has got 1.7GHz dual-core Exynos 5250 (Cortex-A15) processor. So it looks weak from performance point of view but both this device operates Android 4.2 (Jelly Bean). Nexus got 2GB of RAM and Mega 6.3 got 1.5GB RAM. Both feature 8MP camera with LED flash,1080p video. Nexus 4 does not have a microSD card slot to expand the available internal storage capacities of 8GB and 16GB where Mega 6 will be available 8GB or 16GB internal storage which can be expanded using microSD up to 64GB.
The Mega line has 6.3-inch Galaxy Mega 6.3. Though it didn't opt for a full HD screen at that size,it gives 720p resolution with 1280×720 pixels and pixel density of 233ppi . It's powered by a 1.7GHz dual-core processor with 1.5GB of RAM, and runs Android 4.2(Jelly Bean). It'll be available with either 8 or 16GB of onboard storage, and you can supplement that with a microSD card. One Important thing we noticed is the Galaxy Mega phones do not include a stylus (the "S Pen") which was one of the hallmark of the Galaxy Note line.
Specification and Key Features:
Processor: 1.7GHz dual-core, Exynos 5250 (Cortex-A15) processor with Mali-T604 GPU
Thickness and Weight : 8.0mm thickness with weight 199g
RAM: 1.5GB
Display Size: 6.3-inch LCD,1280×720 pixels,233ppi
Software Version: Android v4.2 (Jelly Bean)
Camera: 8 MP with LED flash,and can capture1080p video
Secondary Camera: 1.9 MP
Internal Storage: 8/16 GB storage
External Storage: microSD, up to 64 GB
Battery: 3200mAH battery
Connectivity: microUSB, Bluetooth, NFC, Wi-Fi, Wi-Fi Direct, Wi-Fi Hotspot, DLNA, 4G(LTE), GPS, MHL.
Conclusion:
This device appears to be intended as a more affordable media consumption device. It has a mid-range spec and an enormous 6.3-inch display without the stylus input. So this phone will definitely seek the attraction of those who are looking for a Note-like device specially at the lower price as compared to Note 2. The large display is a great point in favor of the Mega 6.3 and company can surely expect to repeat the success of the Samsung Galaxy Grand in the big phablet segment. Overall with the technical specs the phone looks really good and If it gets a price tag between Rs 25,000 and Rs 27,000, the Galaxy Mega 6.3 will seem like a winner and could be an attractive alternative to potential phablet buyers. As of now there is no information about the availability of this device in India but it is expected to release in May 2013.