Recently we have seen Samsung, the Korean mobile manufacturer, has officially launched the Galaxy Mega series which really have an enormous screen with the display size of 6.3 inches and 5.8 inches, but the news has been leaked that the company will be soon launching the Galaxy Ace 3 adding a new device to its Galaxy Ace series. The Company has cleared that it will not go with just premium, top of the line products like the Galaxy Note, Galaxy S series range but rather with continue to win the heart of the consumer by their end-to-end offering.
The Samsung Galaxy Ace series have been a major contributor to the company and have seen a great success in the budget range. So after the success of Galaxy Ace, Ace Plus and Ace II, it seems the Samsung is all set to unveil the Galaxy Ace 3. As per the report that has been leaked, Samsung Galaxy Ace 3 could be get named as GT-S7272 and will be launched in May end or beginning of June.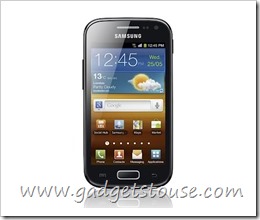 [The Above Image is of Ace 2, will update as Ace 3 official images get out ]
Though we haven't seen any official declaration but according to a leak, the Galaxy Ace 3, known as the GT-S7272,  will be powdered by a dual-core Broadcom CPU clocked at 1GHz and a Video Core IV GPU which was the same processor that was used in the Galaxy S2 Plus. The report also mention that the phone will run Android 4.2.2 Jelly Bean and will feature a 800×480 pixel as they claims that this Samsung device will have a 4-inch screen.
The Device could have a 5-megapixel camera in the rear and if true it can be capable of recording 720p video where as the other rumored specifications of Samsung Galaxy Ace 3 include 4 GB internal storage, Bluetooth 4.0, 1500 mAh Battery. The 4G LTE support is unknown at this point, but it sure would be a welcome addition given the UK's imminent 4G revolution.
Samsung has yet to comment on the Samsung Galaxy Ace 3 but was rumored to be launched at IFA 2013 earlier this month, with a 4-inch AMOLED display and four metallic color variations: black, white, wine red and blue. The leaked could easily be fake. Is the leaked spec proved true that Samsung Ace 3 can come for an estimated price in the region of £200.