Nokia have their web application named as Nokia Nearby which helps the Nokia users to locate the important stores and hangout points near your location in other words I can say it is pretty much similar to Foursquare in locating the important places of interest near you and as per what Nokia says almost half a million of users are using this application on their Asha series.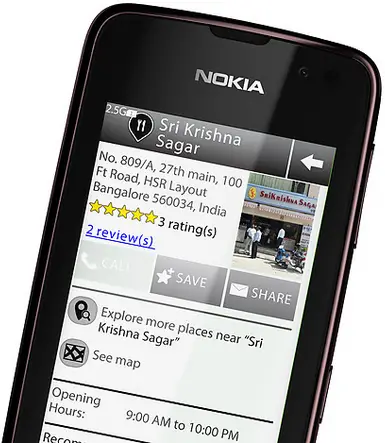 Nokia Asha series is the most popular series in the low-end phones because of its sleek shape and design at such a low price which attracts most of the users and that is the reason Nokia nearby is used on such a huge number and moreover with the larger number of phones in their series they have large number of users in touch with their Ovi Store and thus again being the reason to make Nokia Nearby popular.
Adding to the advantage of this web application Nokia has joined the hands with GetIt to make their search results even more comprehensive. Now GetIt will provide the featured list in all the search results of Nokia Nearby which will include all the important business nearby. Now in order to avail the features list of GetIt, business owners will have to buy this premium listing and it will definitely help them as it will get more popular.
This type of listing will help both the customers and business to get to know each other easily and the best part is that it will be really helpful for the SME (small to medium size enterprise) which do not get the recognition easily despite of providing good service to the customers. The partnership with Get It will surely enhance the search service by Nokia especially when Get It is a leading Digital marketing in India