Samsung India has finally announced the launch of samsung galaxy s3 and its going to be a big event in India, New Delhi, we have done a S3 Vs S4 comparison review. For those who are living under a rock, samsung galaxy S4 is the successor to the previous samsung phone which became very popular. S4 is expected to launch at a price of around Rs. 40,000 INR and if it comes below 40k which is less likely then it will be another big hit for the samsung this time again.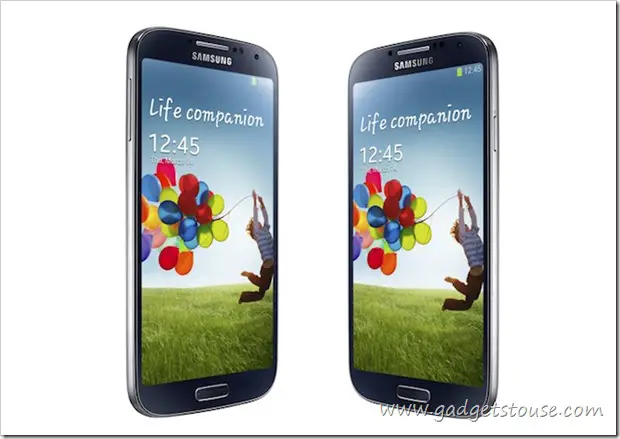 S4 which will get launched in india will have a 5 inch display with full HD resolution of 1920×1080 pixels on a super AMOLED screen which will have really good viewing angles, the device will run on the latest version of android released till now that's Android 4.2.2 and it will get the next update before other devices from samsung. S4 will comes in 1.9 GHz Quad-Core Processor / 1.6 GHz Octa-Core Processor versions, talking about the camera it has 13 Mega pixel Auto Focus camera with Flash & Zero Shutter Lag, BIS sensor, the front camera on the phone is 2 Mega pixel camera, Full HD recording @30fps with Zero Shutter Lag, BIS  sensor.
Yes, this phone will be capable of playing HD videos at 1080p with the following video files format supported – MPEG4, H.264, H.263, DivX, DivX3.11, VC-1, VP8, WMV7/8, Sorenson Spark, HEVC and talking about the camera features it has dual shot, dual video recording and dual video call feature both from front camera and back camera. You have Drama Shot, Sound & Shot, 360 Photo, Cinema Photo, Eraser, Night, Best Photo, Best Face shooting modes supported and you can also take Drama Shot, Sound & Shot, 360 Photo, Cinema Photo, Eraser, Night, Best Photo, Best Face.
We think all this is sufficient for you to get excited about the one of the most powerful smartphone to be launched in india, we will cover the entire launch and provide you to with latest hands on photo of the new S4 and video reviews of the same as well.