Few days back we talked about few of the specification of Samsung Galaxy Note 3, there were some leaks about this report that Samsung Galaxy Note 3 might use unbreakable OLED which will be highly responsible for the reduction in thickness and the weight of Samsung Galaxy Note 3. On the basis of the screen size pattern which has been visualized in Samsung Galaxy Note and Samsung Galaxy Note 2 we expected that with the release of Samsung Galaxy Note 3 the size of the screen will be more than its predecessor (Samsung Galaxy Note 2). So the screen size of the new note phone will vary between 5.5 to 6 inches.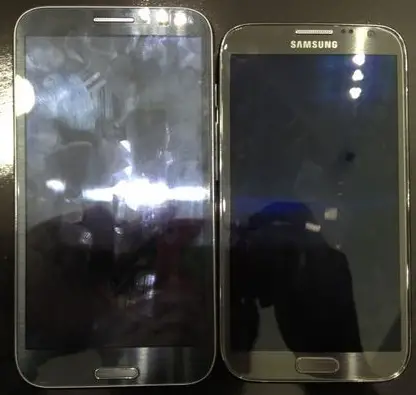 Recently there have been some leaks of their images of Samsung Galaxy Note 3 and as per the leaks it closely resembles the built and shape of Samsung Galaxy Note 2. And now we have more leaked specifications to talk about. The exact screen size of this phone comes out to be 5.9 inches with full HD display (1920 x 1080 pixels).
The power of this phone is somewhat similar to what we have seen in Samsung Galaxy S4 or to be particular it somewhat leaps ahead of it with the 2.0 GHz Exynos 5 Octa Core processor and which is further supported by 3GB of RAM (this combination of processor and RAM if comes out to be true then it will be the most powerful combination available in the Android phone market) because as of now Samsung Galaxy S4 is the most powerful phone with 1.6 GHz Exynos 5 Octa Core processor with 2 GB of DDR3 RAM.
The internal storage of the phone is expected to be 32 GB and as per the leaks it is presumed that it will operate on the same operating system which is used by Samsung Galaxy S4 (Android 4.2.2 Jellybean). As of now we do not have any price availability of this phone but we expect it to be revealed in July this year along with Samsung Galaxy S4 Active (the robust version of Samsung Galaxy S4). Stay tuned to know more about it.
[Image Credit Source: Baidu]