Fly Mobile india has revamped their phones, today they launched four new android phones which comes with decent specs and at affordable price point and that means more than the features phones they are now entering the budget android phone market in india.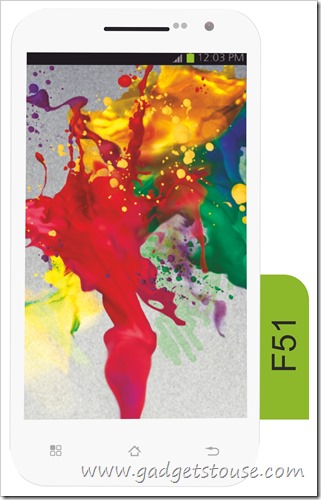 F51 has a 5 inch touch  capacitive screen, runs android 4.0 has a WVGA resolution of 480 x800 and have 5 MP rear camera and 2 MP front camera, it has 1 Ghz dual core processor and have 4Gb internal memory and 149 Mb available in internal memory which seems quite low, but you have 32 Gb MicroSD memory card slot for expanding memory.
F45s is a complete package of smart features and advanced technology. Running on Android 4.1 Jelly Bean, F45s is clearly a winner with its 4.5" full touch screen and1.2 GHz dual core processor. It offers QHD display that gives crystal clear view and the 12 MP camera with BSI sensor which clicks high quality pictures even in dim light. But one of the most amazing features of the phone is that it has the capacity of clicking 80 multiple shots in a single click. Other than that, it has a 3MP front camera, dual MIC noise reduction feature, 3G, 2050 mAh Battery, Wi-Fi, 2.5 GB internal memory expandable up to 32 GB. Packed with 4 GB ROM and 1 GB RAM it is one of the fastest phone on the block with enhanced User Experience, smoother touch and more efficient multitasking.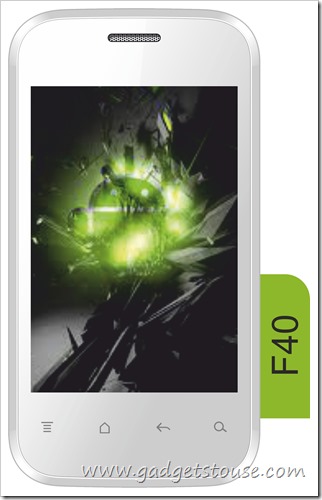 F40 comes with Android 2.3 Gingerbread, 4" full touch HVGA display, 1 Ghz processor, 3.2 MP Back camera + VGA front camera and dual SIM. The great touch experience, better sound quality, fast processing speed and multiple applications offer the user value for their money. More than that, it has pre-installed applications like Facebook, Nimbuzz, YouTube and Opera that can really meet the social media demands of the user.
d
F8s runs Android Jelly Bean and 1.2 GHz dual core processor, the phone comes with full touch 8"Ultra Bright IPS display, dual speakers, 3G, GPS, Bluetooth, EDGE, Proximity and Gravity sensors. The users also get HD Video Chat, HD video calling, fast processing speed and a slim body on top of the Google Services and pre-installed services.
Price and Availability
The new range of products from Fly Mobiles are economical when  Fly F51 is available at Rs. 7790/-; Fly 45s is available at Rs. 12500/-; Fly 40 is available at Rs. 4500/-; Fly 8s is available at Rs. 13499/- and with some of these phones you get a free 4gb memory card, scratch guard and flip cover with in the package of the device.
Detailed Specs of Fly Mobile Android Phones and Tablet
| | | | |
| --- | --- | --- | --- |
| F51 | F45s | F40 | F8s |
| Android 4.0 ICS | Android 4.1 Jelly bean | Android 2.3 Gingerbread | Android 4.1 Jelly bean |
| 5" Full Touch | 4.5" Full Touch | 4" Full touch | 8" Full touch |
| GSM+GSM | GSM+WCDMA | GSM+GSM | Single SIM WCDMA Supported |
| WVGA, 480 x 800 Display | QHD, 540 x 960 Display | HVGA, 320 x 480 Display | XGA, 1024 x 768 Display |
| Dimensions: 146 x 77 x 11.5 mm | Dimensions: (131 x 67 x 10.5 mm) | Dimensions: 125.5 x 66 x 12.25 mm | Dimensions: 198 x 155 x 9.6 mm |
| 5 MP, 2 MP Camera | 12 MP with BSI sensor, 3 MP Camera | 3.2MP, VGA Camera | 3.2MP, 2MP Camera |
| 1 GHz Dual Core Processor | 1.2 GHz Dual Core Processor | 1 GHz Dual Core Processor | 1.2 GHz Dual Core Processor |
| Proximity Sensor, Gravity Sensor, Accelerometer, Video Player, Video Recorder, FM, A-GPS, GPRS, EDGE,, Bluetooth | Proximity Sensor, Gravity Sensor, Light Sensor, Accelerometer, Video Player, Video Recorder, FM, GPS, GPRS, EDGE, 3G, Bluetooth | Proximity Sensor, Gravity Sensor, Accelerometer, Video Player, Video Recorder, FM, GPRS, EDGE, Bluetooth | Proximity Sensor, Gravity Sensor, Accelerometer, Video Player, Video Recorder, FM, GPS, GPRS, EDGE, 3G, Bluetooth |
| Internal Memory 149 MB | Internal Memory 2.5 GB | Internal Memory 170 MB | Internal Memory 2.5 GB |
| External Memory 32 GB | External Memory 32 GB | External Memory 32 GB | External Memory 32 GB |
| 1800 mAH Battery | 2050 mAh Battery | 1400mAh Battery | 4000mAh Battery |
| Gmail, , Google Maps, News & Weather, Google Search, Google Places, Google Talk, You Tube, Play Store | Gmail, Latitude, Google Maps, News & Weather, Google Search, Google Places, Google Talk, You Tube, Play Store | Gmail, Google Talk, You Tube, Play Store | Gmail, Latitude, Google Maps,Navigation News & Weather, Google Search, Google Places, Google Talk, Play Store |
| Nimbuzz, Opera, Saavn, Facebook, You Tube, Zenga TV | Nimbuzz, Opera, Saavn, Facebook, You Tube, Zenga TV, We Chat | Nimbuzz, Opera, Saavn, Facebook, You Tube, Zenga TV | Facebook, Opera, Skype |
Fly 40 Quick Hands on Review [Video]
Fly 45 Quick Hands on Review [Video]
Fly 51 Quick Hands on Review [Video]
Fly 8s Quick Hands on Review [Video]