There have been lots of rumors about Micromax Canvas HD Pro A120 but nothing has been confirmed by Micromax on the same and so we were hesitating to put up but now it seems that Sulekha has talked about this product and has also created a page for this product with the full details of the specifications of this phone. Still the product is not confirmed by Micromax and MMXNewscaster (the authorized source to confirm the leaks) have also stated in their tweets that these rumors are baseless and Micromax is not working on it.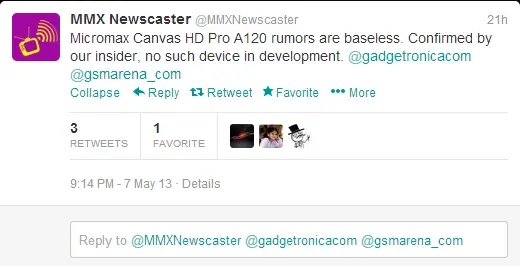 Let us talk about the hardware specs of this phone as they are really good and it will be great they come out to be true. Starting with the power under the hood then it has got a Quad Core Processor which is clocked at 2GHz (we have not seen any ARM processor being clocked at this frequency in any of the smartphone ever before) and this is supported by 2GB of RAM. The screen size of this device matches to that of Samsung Galaxy Note 2 which is 5.5 inches with Full HD resolution of 1920 x 1080 pixels. The battery strength also matches to that of Samsung Galaxy Note 2 which is 3000 mAh and it was necessary considering the adequate amount of battery backup which this battery strength provides.
The Primary camera will be of 13MP which can record HD videos and can snap extra-clear images moreover the secondary camera of 3.2 MP is also good for the video calling purpose. This will operate on Jellybean Android 4.2.1 and it has got the internal storage capacity of 8GB which can be extended up to 64GB. As you can see that the hardware specs of this leaked phone is really and as we know this phone if launched then it will be available at very economical prices which can easily eat out the market of Samsung Galaxy Note 2. As mentioned above we do not have any confirmation from Micromax about it but the page on 'Sulekha' gives us the hope that we might be able to see this phone from Micromax.