After the news of official launch of Nokia Asha 501 has been announced, we are continuously seeing the leaks coming out from different sources about the the specification of this device. But now its time when Nokia Asha 510 goes official. Today at Taj Palace Hotel, Delhi we are at the official launch of this device and will be bringing the quick review and the details about the specification of this device.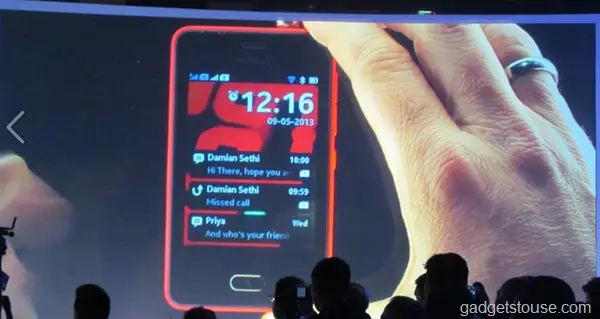 The device is a new member of the Nokia's Asha family and will run on Nokia's Symbian series 40 OS. It will feature a 1 GHz processor under the hood, which is paired along with 64MB of RAM.
The device will come in two variant depending upon the single SIM and dual-SIM slots, where in dual SIM variant the SIMs are interchangeable without having to power off the device. Nokia introduced the Micro-SIM card for the first time in a basic low budget device.
The Nokia Asha 501 has got a body look which is very much similar to the Nokia Lumia 520 which was launched few days back. And as the Nokia device is famous for its solid and robust body, this device also hold a very solid and secure body and more over if it does start to show some wear and tear, you can always swap the back panel by a fresh one and can give it again a newly look. With it tough body the device got the display of 3-inch QVGA capacitive dual-touch screen providing you 320×240-pixel resolution. The resolution looks pretty weak when compared to few Full HD smart phones available around but I think for the price tag its pretty ok. You really can't expect that sort of quality for such a low-end price.
This device sports a 3.2 MP rear end camera without flash and seems mainly a 2G phone targeted for now while it is expected to roll out with a 3G variant later. But the 2G variant does support Wi-Fi with which you can ensure the faster speed. To support all this the device has got a power of 1200 mAh battery which according to Nokia, promises 17 hours of talk-time and 48 days of standby (really astonishing).
One of the most interesting news that has come up with the device is that the company is in global partnership with Facebook now and the user of the Nokia Asha will now be able to use the Facebook application for free. This shows that Facebook is now concentrating more on the mobile user and providing the free access to the Facebook via mobile as well. So now the social surfing person have not to worry about been connected to Facebook.
One more interesting and the unique thing that will appear on the device is Fastlane. This is a new feature available on this phone that will help you in keeping the track of all the recent applications and data accessed by you over the phone. And this is not something which we have seen in other famous Mobile Operating platform including iOS and Android. The phone is a "social" phone and comes with a host of pre-loaded apps and with that it brought along a good news for developers with their unique one-code formula as well.
Specification and Key Feature:
Display Size: 3-inch QVGA capacitive dual-touch screen, Resolution 320×240-pixel
Processor: 1 GHz processor
RAM: 64 MB of RAM
Software Version: Nokia's Symbian series 40 OS
Primary Camera: 3.0 inch megapixel.
Secondary Camera: No
Internal Storage: 4 GB of internal memory
External Storage: 32 GB expandable via micro SD card
Connectivity: Wi-Fi 802.11 b/g/n, Bluetooth 4.0, 3.5 mm audio jack, FM Radio
Battery: 1200 mAh which promises 17 hours of talk-time and 48 days of standby.
Conclusion:
Nokia India has confirmed that Asha 501 will continue to attract its buyer by its color and will be coming in different shades including a Fuchsia or Bright Pink-Red, Parrot Green, Lemon Yellow, White, Black and Ice Blue shades.The company has announced that this device Asha 501 will hit the market in Q2 at a price of Rs.5600/ 99 USD excluding taxes. As the company said in the launch the phone is for sure a power-packed device for an entry-level smartphone. It is expected to ship in June but no words on confirmation of the date.
You can also see the live images and coverage of the launch of this device by clicking here