Notion Ink are finally releasing the successor to their hugely popular Adam tablet. The Bangalore based firm will be releasing the Adam II is June this year possibly, and we have some information when it is specs we are talking about. It'll be a 10.1 incher, in 16:9 aspect ratio with a resolution of 1280×800 pixels, this should be a treat for multimedia buffs.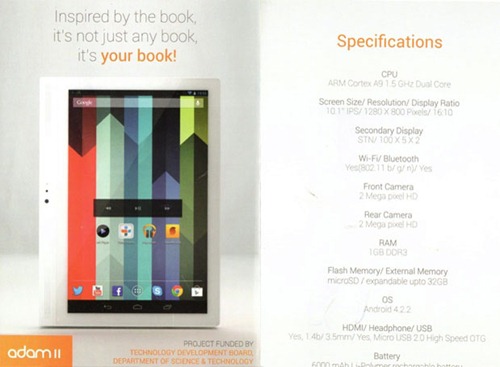 To talk of specifications in detail, the tablet will feature a dual core Cortex A9 processor clocked at a frequency of 1.5GHz, coupled with 1 gigabyte of RAM, of the DDR3 variant. We spoke of the 10.1 inch screen, but apart from having a good resolution of 1280×800 pixels, the screen will also be featuring the IPS technology, which allows viewing angles to be as high as 178 degrees. This configuration makes a pretty powerful tablet, good for multimedia use as well as web browsing. On the camera front, the device will sport 2 megapixel cameras both front and rear, with both cameras capable of recording in HD.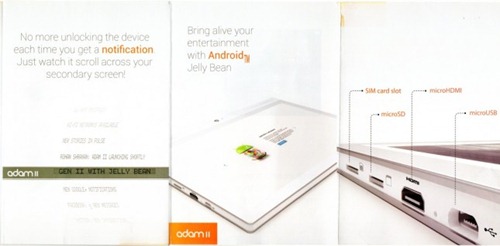 Since the hardware is pretty powerful, it would also call for a powerful battery to back it up, and thankfully there will be a huge battery of 6000mAh capable of keeping the device running for about 10hrs. To speak of connectivity features, the device will sport Bluetooth, WiFi, a micro USB port, and a HDMI port.
The Adam had an nVidia Tegra 250 chipset, which was one of the most powerful during the time of release.  The screen was the same 10.1″ but the resolution was much lesser, at 1024×600 (WSVGA).  Even the amount of RAM was the same at 1GB – but it was DDR2, now the Adam II is coming with DDR3. The Adam had one camera which could swivel through 180 degrees, and the camera was a 3.2 MP unit, better than 2MP on the Adam II.
We think the device makes a very good tablet, at least looking at the specs on paper makes us believe so. Their first iteration, the Notion Ink's Adam did not deliver as expected and was a disappointment for many, and Notion Ink would hope to do better this time with the Adam II. There is no official word from Notion Ink yet, but the specification were in fact revealed at the National Technology Awards in India, and the price is said to be 12,000 INR. Although many other Indian manufacturers are offering similar configuration at lesser/equal prices, the expectations are higher from Notion Ink as we expect a much more polished firmware from them, which would make the tablet experience much more fluid.