Samsung came up with their cheapest smartphone in their smartphone range named as Samsung Galaxy Star and which is now available at the price of 5,240 INR. The hardware specs of this specs are really good as per this price but you if you started comparing this phone is phone from Micromax, Karbonn or Lava in the same price range then you will be disappointed for sure but this is the best Samsung has ever offered on a low-end phone at this price.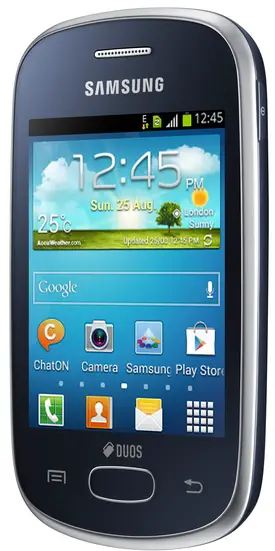 The best thing about this smartphone is the Jellybean OS on which this phone operates, the latest Bluetooth 4.0 (something very rare under this price range) and the availability of Intelligent Motion UI which involves changing the song or refreshing any page by just shaking the device or you can mute the ringing of the phone by just flipping to the other side. These are some of the intelligent features which impress a user who spending a small on their phones.
The size of the screen is only 3 inches (something which is quite rarely seen these days) and the processor is also quite old which is based on the ARM architecture of cortex A-5 and clocked at the frequency of 1GHz but the RAM is of 512 MB. Galaxy Star does not have any camera in the front and the primary camera at the back is of 2MP adequate just for taking a low quality image.
The internal memory of the phone is of 4GB which can be extended up to 32GB with the help of external memory microSD card and the battery strength is of 1200 mAh which is really good for the phone with such a small screen size, the exact talk time available due to this battery has not been specified.
The phone is available at the price of 5,240 INR and till 31st July it has got the offer for free 250MB of 2G data from Vodafone. On this launch, Mr. Vineet Taneja, Country Head, Samsung Mobiles, said "I am happy to announce the launch of Galaxy Star – a device that provides superior value to consumers based on its advanced features, intuitive performance and superior design features. We want more and more feature phone users to upgrade to the Samsung Galaxy Star."
You can buy it from Flipkart