Earlier in March, we have seen Swipe Telecom; the California-based mobile manufacturing company has launched a budget tablet called Halo Value with the price range of Rs.7000 and now the company has launched one more Tablet Halo Speed tablet with voice calling and the price tag of Rs. 6,990.
The launched of Swipe mobiles, the Halo Speed tablet operates on Android 4.1 (Jelly Bean) and this low-cost tablet sports a 7″ screen with WVGA pixel dimensions and 5-point capacitive touch input. So you cannot expect a high display resolution from the device. It is powered by a 1.5 GHz CPU with 1 GB of RAM and an internal storage of 4 GB, which will have an option to be expanded up to 32 GB via microSD card. It supports 2G for calling and data connectivity via SIM card slot in addition to Wi-Fi. A rear 2 MP snapper and front 0.3 MP camera take care of the imaging department.
There are few tablet available in low budget from micromax and Swipe now seems to be targeting them. Micromax Funbook Talk P362 could be a tough competitor for this Swipe's device as they share some feature and a similar price range. Both the device got the same 7 Inch Capacitive Touch Screen and both operate same version of Android which is Android 4.1 Jelly Bean so the comparison between the other specs of the device could be interesting and hence today we will be comparing the two device to check which one could be a better option for the buyers with this price ranges.
Camera:
The Swipe Halo speed got a 2-megapixel rear camera which is exactly same as that of Micromax P362 as it has also got the same 2 Mega pixel Rear. Both this device share the same secondary front facing camera as well. Both the device got the 0.3-megapixel VGA camera to provide an option for Video calling to the users. So from the camera front both the device looks same.
Processor and Battery:
The processor of this device could create a difference here as Swipe Halo speed got 1.5 GHz processor in comparison to Micromax's Cortex-A9 single Core 1.2GHz Processor. So we can expect a good performance from swipe as compared to Micromax P362.coming toward the battery the Micromax got 3000mAh Battery which is same a the Swipe Tablet. so here as the processor looks good in Swipe the swipe earns this point.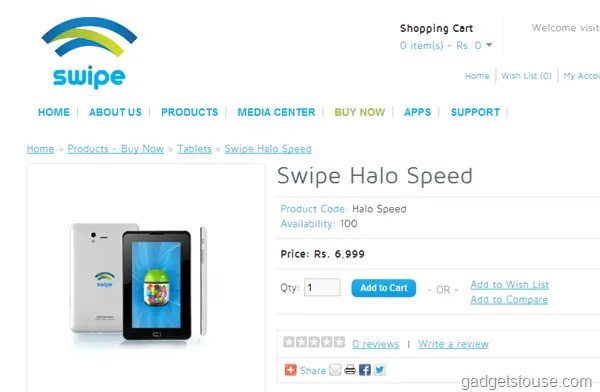 Display Type and Size:
As mentioned earlier, both the device sports same 7 inches of display and both got the Capacitive Touch Screen. The resolution of Swipe Halo speed is 480×800 pixels which is exactly same as that of Micromax Funbook p362. Both device support 5 point multi touch as well. So again the display looks exactly similar and both the device share the point for display.
SPECIFICATION AND KEY FEATURE:
| | |
| --- | --- |
| | Swipe Halo Speed |
| RAM, ROM | 1 GB RAM, 4 GB internal storage, Up to 32 GB microSD support. |
| Processor | 1.5 GHz CPU |
| Cameras | 2 MP, 0.3 MP |
| Screen |   7 Inches with 5-point capacitive input and resolution: 480×800 |
| Battery | 3000mAh |
| Price | 6,990 INR |
Conclusion:
From the technical front the device looks good and when taking about comparison with Micromax's Funbook 362 both looks sharing almost same feature. But as the processor of Swipe Halo Speed is more improved than the microm's device i will vote for Swipe but we know the Micromax has created its own brand name in the Indian market in the recent days and hence if you want to go with that brand name then you can go for Micromax device. There is not a major difference we can find other than the Processor. The swipe is available at companies official site for online ordering for Rs.6990.