In which the Stellar Pinnacle Pro was the last phone to release and all the phones in this series are usually equipped with the screen size of 5 Inches. Following the same pattern you will see that the new phone in the Stellar series and the new Coolpad have the same screen size but the resolution of the display vary in both the phones. Let us take on the specifications of these two phones now.
Spice Coolpad Mi–515 is available with the same screen size as mentioned above and that too with the qHD resolution (960 x 540 pixels). Now the exact processor model under on this phone is not know but the processor is a Quad Core Processor which has been clocked at the frequency of 1.2GHz and to the most extent we doubt it to be the Mediatek MTK6589 and this is further supported by 1GB of RAM.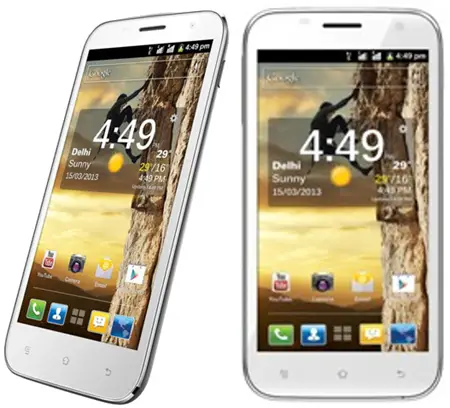 The primary camera available at the back panel is of 5MP which can record the HD video on your smartphones and 0.3 MP VGA Camera available in the front is mainly dedicated for the video chatting purpose. The operating system on this phone is Android 4.1 Jelly Bean and most of the specifications on this phone are of a mid range with nothing too special which may attract the user.
Similarly now talking about this Stellar Prime Mi–510 also comes with the same screen size but the resolution is pretty low so the display clarity will be below average. The resolution is 400 x 840 pixels so obviously the PPI will also be very much low. But other features like the camera which is of 8MP available at the back panel and then 3.2MP available in the front as your secondary camera.
The processor used in this case is the same and the RAM has been logged down to 512MB as compared to the other phone launched with this. Obviously the camera is better in this case and moreover the 2 SIM slots in this Dual SIM device will comply with 3G on both of them whereas one will be 3G and the other one will be 2G in case of Coolpad Mi–515. Stay tuned to know about the exact prices of both the devices along with the links to buy this product online.