Today Intel has launched fourth generation i3, i5 and I 7 processors in India built on 22nm manufacturing process, which was introduced with the third generation core processor. These processors are formally known as Haswell processors. Previously Intel's third generation processors have dominated the market with features like hyper threading and turbo boost.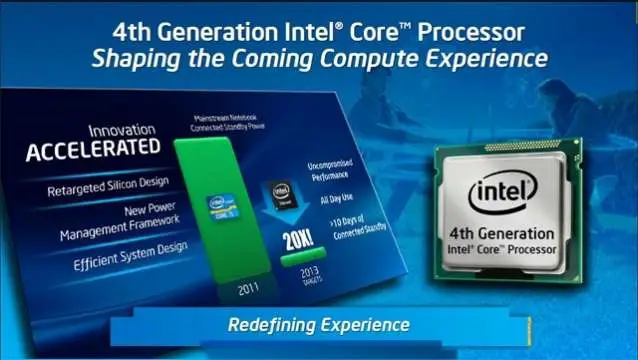 Intel claims that Fourth generation Intel processor, which enable new form factor and two in one computing, enable 50% improvement in battery life, which is quite spectacular. They also claim doubled graphic performance over previous 3rd generation processors formally known as Ivy-bridge processors.
The 50 % gain in battery performance is largest generation to generation change provided with Intel. This has been achieved by power optimization techniques thus reducing CPU power levels to as low as 6 watts The two in one computing will make it suitable for devices like Acer aspire R7 which comes with Ezel hinge feature and can be used both as a Laptop and a Tablet. With the coming of fourth generation processors we expect to see more of such revolutionary devices. With some systems coming later this year we can expect more than up to 9 hours of active battery life.
Today we deliver on the vision set forth 2 years ago to reinvent personal computing with the introduction of our 4th Generation Intel Core processors," said Leighton Phillips, Director, Product Management & Pricing, Intel Asia-Pacific. "Today's announcement accelerates a new category of 2-in-1 computing devices delivering the best of a notebook and a tablet in amazing new form factors."
Intel has enhanced its graphic features to deliver better quality visuals in portable devices.The new processors feature new Intel HD Graphics, Iris Graphics and Iris pro graphics which will give users increased level of performance on 3D apps and enhance hardcore gaming experience.
These days with the increase in demand of portable computing devices, improved battery life makes these new processors quite lucrative. With the coming of Intel's fourth generation processors we expect refreshed line up of such devices in the market. New Ultrabooks powered by these processors are expected to show much enhanced performance.
"We need to make technology less intimidating and allow people to interact with devices in a more natural way. We see a future in this space with perceptual computing and are committed towards its integration across various applications that help in fields like education and healthcare" said Debjani Ghosh,Managing Director of Sales and Marketing Operations for Intel,South Asia