iPhone 4 8GB is now available at an attractive price of 20,921 INR from indiatimeshopping.com. iPhone 4 8 GB which was initially launched at 26,500 INR. Despite several new players in the market, this Smartphone still manages to attract good sales figures which in itself is a remarkable feet. Apple also recently offered a student discount offer wherein it gave attractive discount of 7000 INR on iPhone 4 8GB to Indian students in return for their old phones, in order to boost the sales of iPhone 4 and its effective price went down to around 19,500 INR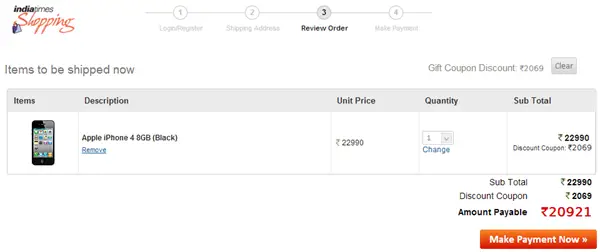 To avail this cheapest offer at Indiatimes, you can visit their website and click on discount promotions or directly click on this link. Copy the coupon number and after you click on buy you can check the discount available from this coupon. In the final order preview click on redeem coupon option and avail the discount.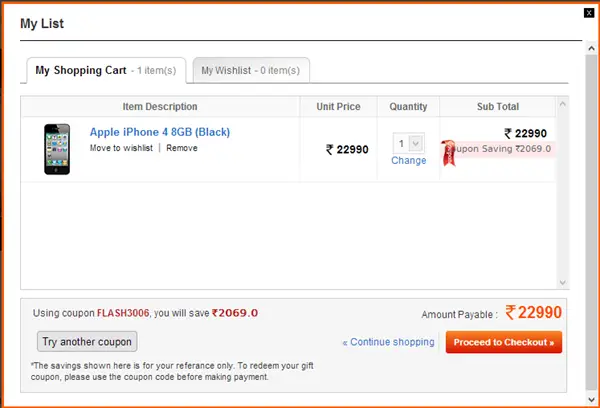 Amazon.in which recently started their operation in India and even more recently started selling electronic devices, is selling iPhone 4 8GB for Rs. 21500 under their introductory 10% discount promotional offer. We recently covered the full list of the phones you can get at discount prices.

As of now, this is the best phone available in the market at this price under the price and moreover now when we will be seeing the new iOS 7 on this device then as per my view nothing can be better than this. Obviously you will have to compromise on the screen size but any other Android device under this range of 20,000 will give UI Lag after a certain period of time (specifically talking about the Samsung Galaxy Grand and Grand Quaddro).