Mediatek have grown from just another chipset manufacturer to one of the biggest in a matter of a few years. The Taiwanese chipset provider has been providing solutions to all sorts of manufacturers, from cheap Chinese knock-offs to the likes of HTC and Sony. Not only are the chipsets cost efficient, but since the last two generations (MT6577 and MT6589), have proven their mettle with regards to powerful processing as well.
We got our hands on the roadmap of Mediatek which reveals many more upcoming products for this year and beyond.

As seen in the picture above, we can see information about 8 of Mediatek's chipsets, out of which some are already available while some are upcoming. The table also shows us the ETA's (Estimated Time of Arrival) for most of the chipsets, and we have to say that the release of the MT6589 and MT6589T at least does agree with what's shown in the roadmap.
A lot of people get confused between variants of the MT6589. Reading this would help you clear your mind about the same!
The upcoming chipsets about which the roadmap talk are the Quad-core MT6582, MT6588, Octa-core MT6592 and the MT629X, which is said to have built-in LTE! This sounds really exciting because until now, Mediatek processors have lagged behind other mainstream manufacturers when it comes to performance. However, by the look of things, it seems like this is all set to change!
Here's another table which talks about chipsets planned for tablets.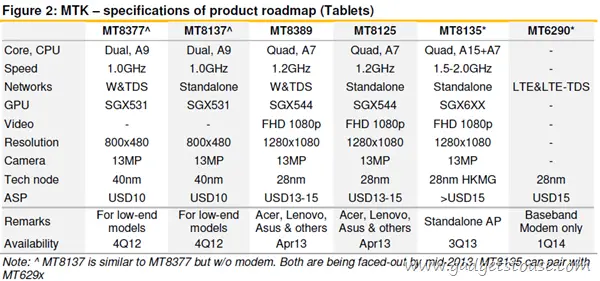 This looks heartening since it is not only phones on which Mediatek have been concentrating. Tablets, soon will come powered with Mediatek chipsets shown above, out of which a few are already available.
What is worth noting is that Mediatek have bundled a radio chip along with the MT6290 which means we will soon start seeing tablets which superior processing and connectivity features. However, we will have to wait till Q1 2014 at least to be able to see the chipset running a tablet – that is, if Mediatek complete their operations on time, which we hope they do. Tablet manufacturers will then need some time to debug the hardware and develop software, which adds 2-3 months more to the process. The same would apply to phones as well.