HP Officejet Pro X576 DW is a great multifunction printer which is really suited for Small and Medium size business offices, its one of the best printer and actually replaces the other laser printer in terms of running cost and printing speed in its class with some good and no so good points and we tell you in this review whether its worth the money you invest in it.
HP Officejet Pro X576 DW Quick Specs
Printer Category: Laser
Type: All-In-One – Printer, Copier and Scanner
Connection Type: USB, Ethernet, Wireless
Maximum Standard Paper Size: Legal
Number of Cartridges: 4
Number of Trays: 2
Number of Ink Colors: 4
Direct Printing from Cameras: No
LCD Preview Screen: Yes
Rated Speed at Default Settings (Mono): 42 ppm
Rated Speed at Default Settings (Color): 42 ppm
Scanner Type: Flatbed with ADF (Standard or Optional)
Scanner Optical Resolution: 1200 pixels per inch
Maximum Scan Area: 8.5″ x 14″
Standalone Copier and Fax: Copier, Fax
Duty Cycle: 75000 pages per month
Box Contents
In the box you get the printer with some assembly parts supposed to be mounted on the unit, some free papers A4 size for initial testing of the printers, you also get our pigment inks: cyan, magenta, yellow, and black and some others accessories, power cable and additional tray which can be mounted in the middle position to hold the printed paper.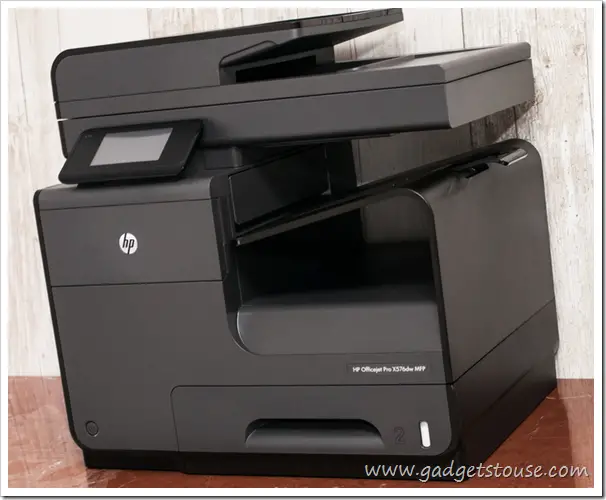 Build Quality, Design and Weight
In terms of build quality its really nice quality of the plastic with matte finish which will not look dirty or get scratch easily. The design is a done nicely, it may look like a laser but its not although it works like a laser in terms of paper feeding and printing. That makes it laser-class, much like Xerox's solid ink printers, which are also inkjets and also head-to-head laser competition. As a laser-class printer, the X576dw is a strong contender for light to moderate-duty use in a small to medium-size office or workgroup. The size is big but it wont take more than 2 foot of space on your office table and again its quite heavy so once to locate it in the office moving it will be a task.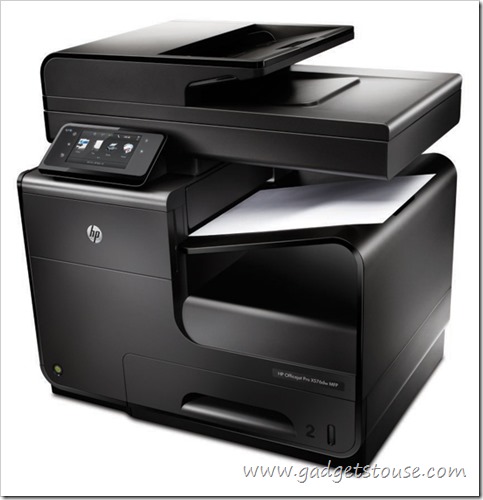 Paper Handling, Print Quality and Speed
It terms paper handling, you have a choice of three locations where you can place the paper. There's the main input tray on the bottom that can hold 500 sheets of paper, a 50-sheet auto-document feeder on top for scanning and copying a stack of documents, and an additional 50-sheet multipurpose feed tray that folds down from a door on the left side of the printer. For scanning, the X576dw offers both a legal-size flatbed and a 50-sheet automatic document feeder (ADF). Even better, the ADF can copy, scan, or fax two-sided pages by turning the page over to scan the second side. In combination with the print duplexer, it lets you copy both single-and double-sided originals to your choice of single-or double-sided copies.
The print quality is great and is much better than a laser it is almost life like although the black sometimes may appear little grey. We noticed some banding on a black and white photo, but color photos qualified as true photo quality, at the low end of what you might expect from drugstore prints. The printing speed is something which makes this printer a decent performer for a business. It comes powered by HP Page Wide Technology which will help this printers to deliver high-quality professional documents at up to 70 pages per minute in General Office mode. This is something really amazing and makes this printer the fastest desktop printer.
Cost of Running, Power Saving
The running cost of this printer is justified for office usage and deliver high-quality professional documents at up to twice the speed and half the cost of color lasers, allowing enterprise workgroups and small, medium-sized businesses (SMBs) to enjoy more time and cost savings. The printer goes in sleep mode when not working and it does not take more than 8 seconds to finish the first print command when it was in sleep mode.
Conclusion and Price
The HP Officejet Pro Black & White series include:
1. HP Officejet Pro 3610 Black and White  e-All-in-One : Rs. 7,999/-
2. HP Officejet Pro 3620 Black and White  e-All-in-One (with fax feature) – Priced at MRP Rs. 11,999/-
The HP Officejet Pro X Series include:
1. HP Officejet Pro X451dw Printer – Priced at MRP Rs. 31,499/-
2. HP Officejet Pro X551dw Printer – Priced at MRP Rs. 37,999/-
3. HP Officejet Pro X476dw MFP – Priced at MRP Rs. 43,999/-
4. HP Officejet Pro X576dw MFP – Priced at an MRP Rs. 50,499/-
These printers are really attracting and are designed mainly for the business work. One series offer the fastest printing where as the one offer the best user experience with reduced cost and improved efficiency.