Panasonic today released new set of Display projectors and flat panel display projections in India. This Includes Portable Range of Interactive Ultra Short-Throw, Short throw and Portable Projectors along with Professional LED LCD display solutions, Plasma interactive displays for Boardroom or classrooms. These designs are targeted at healthcare, production, hospitality and education sectors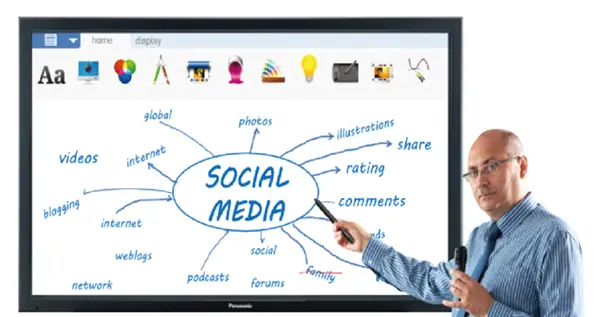 Plasma Interactive display solutions for classrooms are available in 4 sizes (50-inch, 65-inch, 85-inch and 103-inch) and come with integrated pen-touch capabilities via an Electronic Pen System. Up to 4 such pens can be used simultaneously for actions such as written annotation, drawing and moving items independently around the screen. These displays won't be effected by the touch of your hands or clothes and will only detect electronic pens. Interactive plasma displays are equipped with cable free design and wireless capabilities. The 50-inch, 65-inch, 85-inch and 103-inch are available at price of Rs 130,000, Rs. 280,000, Rs.1, 600,000 and Rs. 2,500,000 respectively.
Panasonic has also launched Series of ultra-short-throw projectors and a series of normal short throw projectors. The new series includes the PT-CW330, PT-CW240, PT-CX300as well as three interactive models that have dual pen capabilities, the PT-CW331R, PT-CW241R and PT-CX301R.
PT-CW330 Series comes with 3,100 lumens and a contrast ratio of 8,000:1, built in 10 Watt speaker, up to 5,000 hour lamp replacement cycle1 and CrestronRoomView compatibility; it has 5 models out of which two are interactive .The price ranges from Rs.49, 000 to 74,000. The price for PT-LW271 series ranges from Rs.35, 000 to 52,000. The price for CW330 series range from Rs. 75,000 to Rs.95, 0000
Professional LED displays includes three new lines, the LED 55" LFV50, the company's first video wall product, the 70" and 80" LED LF50 Series, the first large format Flat panels and the LF6, an entry-level digital signage LED flat panel display. The displays are designed to work in both portrait and landscape orientations.
Speaking about the portfolio expansion, Mr. Vineet Mahajan – Head, Display Products, Panasonic India said, ""The new products are targeted sharply at enterprises and are designed to deliver high quality results to cater to their creative output requirements. These interactive solutions based on the latest cutting edge technology, will not only enhance the audio-visual experience for users but also bring an acute change in the way information is currently managed and interpreted. Our goal is to gradually provide the highest-level integrated solutions for a variety of applications so they can serve the public with 24/7 dependability and this launch of multipurpose display products is a significant step in that direction."