Micromax is among the most famous domestic manufacturers in India, and is regarded as the pioneer in technology by some. The company recently launched the Bolt A67 along with the Canvas Fun A76 (Quick Review) after a dry spell for a while. The device comes with an MRP of 5,975 INR and comes with a dual core processor along with 512MB of RAM. However, the device does not feature 3G, which might hamper the sales by a bit.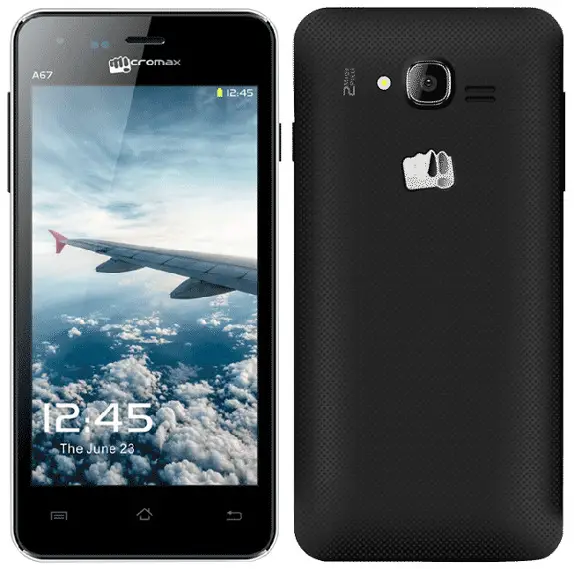 The phone will have a tonne of other devices to compete with – devices across many manufacturers, most of them however being Indian.
Camera And Internal Storage
The Bolt A67 comes with a rather austere set of cameras that includes a 2MP rear unit coupled with a 0.3MP front. This seems a rather low set of specs as far as cameras are concerned, given that many other dual core phones in the same price range feature 5MP-8MP units at about the same price. A 5MP shooter was expected at the least.
Also, the fact that the phone does not feature 3G connectivity renders the front camera more or less a mere number, since users will only be able to perform video calls over WiFi.
The Bolt A67 comes with an expected 4GB ROM which can be expanded up to 32GB via means of a microSD card. However, this cannot be labelled as below-average since most phones up to the 10-12k INR mark feature the same amount of internal storage.
Processor And Battery
The Bolt A67 packs a dual core 1GHz processor, assumed to be the MT6572. This processor, along with the 512MB of RAM that's present on this device, can make for a decent combination. You can expect the phone to be fluid and smooth through most day to day apps like email, WhatsApp and other IM, stock Android apps, etc.
However, the lack of processing strength might be felt while trying to run hardware-intensive applications.
The Bolt A67 comes with a slightly underpowered battery of 1850mAh. The phone will still manage to pull you through one day but be prepared to see the low battery warnings
Most other budget phones feature 2000mAh batteries so the Bolt A67 loses a point here.
Display And Features
The Micromax Bolt A67 comes with a 4.5 inch display, which makes it one of the more usable and portable mobile devices in the market. Although many prefer 5 inch devices, a 4.5 inch one does make sense at times more than one.
This 4.5 inch display packs a WVGA resolution of 480×800 pixels. Upon calculating the PPI, we get a figure of 207 which is about OK for a phone costing under 10k INR.
The phone will come preinstalled with Android 4.0 which is quite a disappointment, since almost every other manufacturer in the domestic sector is offering v4.2 out of the box.
Looks and Connectivity
As you can see from the picture above, the phone comes with a regular bar form factor. Although there's nothing new as far as the design is concerned, bar designs have been a favourite of most for a while now and the phone does a decent job at looking good.
On the connectivity front, the phone will come with the regular dual SIM connectivity minus the 3G feature – the Bolt A67, surprisingly, does not feature 3G which comes as quite a shocker to us.
Comparison
The phone can be compared to a handful of other Indian devices including the recently released Spice Stellar Glamour Mi-436 which will give you better looks plus 3G connectivity, Spice Smart Flo Pace (No 3G, cheaper), Lava's 3G 356 and 3G 402, etc.
Key Specs
| | |
| --- | --- |
| Model | Micromax Bolt A67 |
| Display | 4.5 inches WVGA |
| Processor | 1GHz dual core |
| RAM, ROM | 512MB RAM, 4GB ROM expandable up t0 32GB |
| OS | Android v4.0 |
| Cameras | 2MP rear, 0.3MP front |
| Battery | 1850mAh |
| Price | 5,975 INR |
Conclusion
Given that the phone is priced a notch above what other manufacturers ask for, plus the fact that it does not feature 3G, we think that Micromax are going to have a tough time trying to convince potential buyers into buying this device.
The one plus Micromax have over any other domestic manufacturer is that they are more popular than any other and are a household name in most cities. However, with buyers getting smart by the day, the lack of 3G will pinch.