Recently we have seen markets flooding with Budget Android phones and the price segment of below 5000 INR is now an Overcrowded and competitive one. Spice has come of late but has launched its own Budget Android, Spice Smart Flo Space Mi-354 along with Spice Stellar Glamour (5,999 INR) to provide a basic product to provide with Android experience for beginners.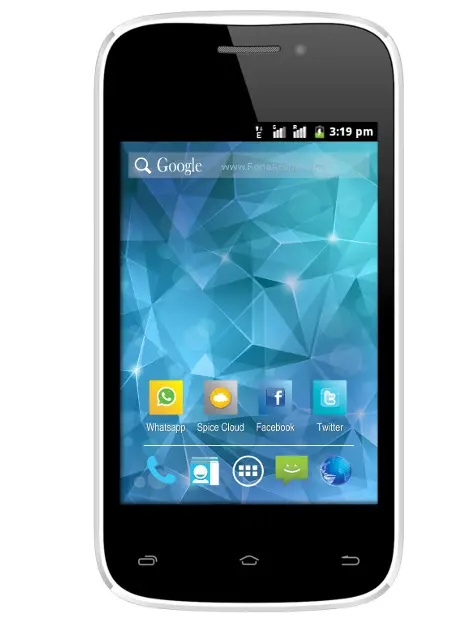 Camera and Internal Storage
Well when you are talking about an android phone priced below 5K, it won't be fair to be hung on a vivid camera. This phone offers better primary and secondary camera as compared to the rival Intex Cloud X3 (2 MP/ VGA). This device features a 3 MP back camera and a 1.3 MP front camera which you could use for video calling when in range with of a Wi-Fi network. So as far as camera features go, No other manufacturer is offering any better at this price range.
Internal storage memory is 512 MB, which is Again this is pretty standard at this price range and you could always use a microSD card to further extend it to 32 GB.
Processor and Battery
The RAM capacity of 256 MB is quite a mismatch with a 1 GHz Dual core processor. Of course you can't complain about the processor. A dual core processor at this price range is certainly more than what you can expect at this price range. But we can't help but wonder that device might have performed better if the RAM was 512 MB and the processor was kept at Single core. You could have certainly improved your multi tasking many folds.
The battery 1450 mAh is average. Spice claims that this battery will give you a talk time of up to 5 Hrs and a standby time of 200 hrs. With low to moderate usage you could last a work day without having to charge.
Display and Feature
The Capacitive touch display of this device is 3.5 Inch in Size. The display resolution is 480 x 320 pixels, giving you a pixel density of 165 ppi. These budget android phones are not meant for HD gaming, but for general purpose usage including basic apps and social networking. This Display will suffice for all these purposes.
On the software front Android 4.2 Jelly Bean O.s. is alluring and will provide with good android experience for beginners.
This phone comes with Dual SIM dual standby functionality and other connectivity features like 2G (EDGE), Bluetooth and Wi-Fi. It is also equipped with a 3.5 mm Audio jack and FM.
Comparison
Most Budget devices will offer you similar chipset specifications. Intex Cloud X3 will give you almost similar specifications, with slightly less camera specifications at a similar price. Lava Iris 3G 356(4,499 INR) will offer you with 3G connectivity which many consider important. Lava Iris 3G 402, Videocon A24 and Spice Stellar Glamour Mi-436 come with a slightly enhanced screen size (4 Inch), 1.2 GHz Dual core processor and 3G for a little extra money. You can also consider Smart NaMo Saffron 209 and Celkon Campus A20.
Key Specifications
| | |
| --- | --- |
| Model | Spice Smart Flo Space mi-354 |
| Processor | 1 GHz Dual Core |
| Display | 3.5 Inch 480 X 320 |
| RAM/ ROM | 256 MB/ 512 MB |
| Operating System | Android Jelly bean 4.2 |
| Camera | 3 MP primary camera and 1.3 MP secondary camera |
| Battery | 1450 mAh |
| Price | 3,799 INR |
Conclusion and Price
At a price range of 3,799 you are getting a good deal. This phone will be apt for beginners and first time users with a short budget. The Android 4.2 Jelly bean will provide you with Good android experience and this phone will sail through smoothly with general purpose usage. The lack of 3G will be a deal breaker for many.