The Spice Stellar Glamour, as the name suggest, is built to be a looker. The device comes with specifications you'd expect in a budget dual core, with it's visual appeal being the USP. Priced at 5,999 INR, the device is set to compete with a host of Android smartphones in the market.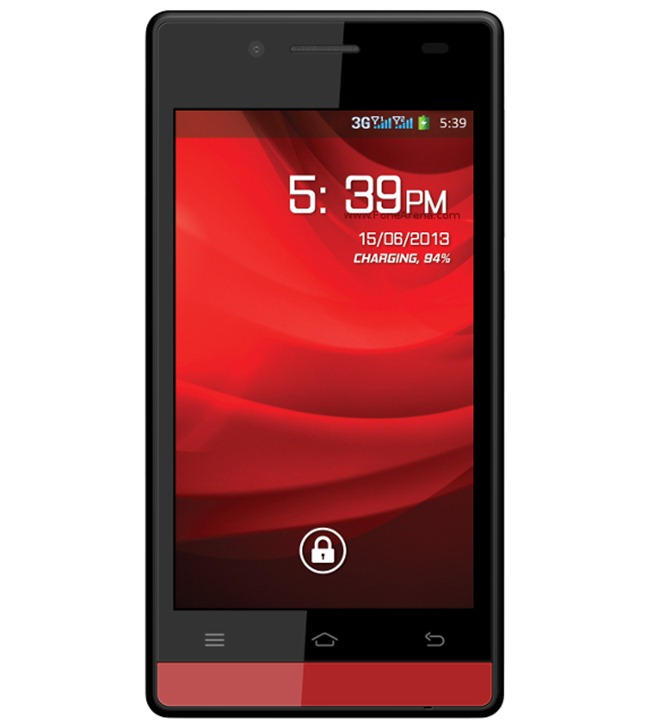 As it is expected in the budget segment, the Stellar Glamour too comes with the dual SIM functionality that does increase the value of the device by quite a bit.
Let us take this quick review forward.
Camera and Internal Storage
Again, before the term gets clichéd, the device comes with what you see in most budget Android smartphones of today when it comes to the imaging hardware – a 5MP rear camera, assisted by LED flash coupled with a 1.3MP front unit.
Although it doesn't sound like the best camera set in the world, it should suffice for most users since most of us use the phone's camera for casual photography only.
That's for the rear camera. As far as the front 1.3MP unit is concerned, again, the shooter should be enough for the average user for video calls, but you might find it falling short when it comes to self-portraits since front cameras usually come with a very narrow angle, which doesn't cover much space.
Speaking of the internal storage on this good-looking device, it comes with the expected and rather paltry 4GB ROM as seen on every other Mediatek phone. A microSD slot allows you to expand storage up to 32GB, which will probably be engaged for most users since the ~2GB usable clearly isn't enough.
Processor and Battery
This new device comes with a 1.2 GHz dual core processor which we believe is the MT6577 from Mediatek. This decently-powerful processor is coupled with 512MB of RAM which means the phone will be about average when it comes to multitasking and running hardware intensive apps. Those coming from a 1GB RAM device are bound to feel some lag during app switching. However, users coming from a non-smartphone or smartphone with 256MB RAM are bound to enjoy the usability on this device.
The only gripe on this eye-catcher seems to be the battery, which is a rather teeny 1400mAh unit. Users might have a hard time while trying to extract one day's usage out of this unit, and carrying the charger is advised.
Display and Features
The phone comes with a 4-inch WVGA display. This 800x480p panel would be among the smaller units in the budget segment, a segment which is dominated by smartphones with 5 inch screens.
You can't expect to have a great multimedia experience, but the phone will indeed be very handy given the size. Also, most 5-inch budget devices come with the same resolution panels, so pixel density on this one is bound to be better due to the smaller size. You have to decide what matters to you more; a bigger display or a better pixel density along with better mobility.
The phone comes with dual SIM functionality as mentioned previously, and would have Android v4.2 out of the box which is a big plus. It is heartening to see domestic manufacturers going for v4.2 straight out of the box.
Comparison
As we've mentioned in previous posts as well, there have been quite a few dual core phone releases in the past month or so. This makes the competition tougher, however, the Stellar Glamour is set to have it's own audience since it is going to be one of the best looking dual core budget smartphones in India, as you can see from the picture above.
Some devices that can be compared to the Stellar Glamour are as follows: Gionee P2, Canvas Fun A76, Intex Cloud X4 (256MB RAM) and Cloud X3 (256MB RAM and no 3G), etc.
Key Specs
| | |
| --- | --- |
| Model | Spice Stellar Glamour Mi-436 |
| Display | 4 inches WVGA |
| Processor | 1.2 GHz dual core |
| RAM, ROM | 512MB RAM, 4GB ROM expandable up to 32GB |
| OS | Android v4.2 |
| Cameras | 5MP rear, 1.3MP front |
| Battery | 1400mAh |
| Price | 5,999 INR |
Conclusion
We are impressed to quite an extent by this device. It looks good, comes with what you would expect in a budget dual core, and with 512MB, is much more usable than any other dual core phone with 256MB RAM. All that's left to be seen is the build quality, and whether or not the 1400mAh battery can take you through on day (which does seem unlikely). If Spice manage to pull that off as well, we can foresee this device as being a major threat to the dominance of the Canvas series from Micromax.
What's more is that the device will come with a few free goodies like a back cover worth 500 INR and 6 months free subscription to NQ Antivirus!