Another phone from Karbonn Mobiles, Karbonn A8 which is a budget Android phone priced at Rs. 6,189 INR, appeared on online retail site Saholic. Karbonn has recently launched many budget android devices like Karbonn A11+, Karbonn A9 star, Karbonn A1 Star and Karbonn A5 Star. All these phones have been priced below 6,000 INR. Lets see where this new device from Karbonn Stands in the overcrowded Indian Budget Android market.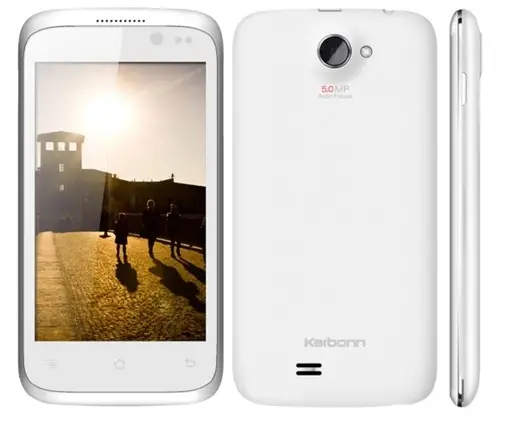 Camera and Internal storage
The Camera features offered by all smartphones, like Spice Stellar Glamour, Micromax Canvas Fun A74 etc, in this range are about same. Karbonn A8 also offers a similar 5 MP primary camera with flash. The upcoming Micromax Canvas A63 which will be priced in the same range will have a smaller 2MP camera sensor. At the same time you can get a better 8 MP camera with Intex cloud Y5. A secondary VGA camera is also available for video calling.
Internal storage is 4 GB which can be further increased to 32 GB using a microSD card. seeing that most manufacturers are offering the same storage up to 15,000 INR, we can't have much more to expect or complain about.
Processor and Battery
The processor of this Karbonn A8 is a dual core processor clocked at a frequency of 1 GHz. Most manufacturers will offer you dual core processors clocked at a frequency of 1.2 GHz (like Spice Stellar Glamour ). Micromax Canvas fun series and Gionee p2 comes with 1.3 GHz dual core processor. This slight difference in clock frequency won't translate into much of a practical difference. Budget android devices are meant to provide you with basic Android experience and this processor is quite capable of that.
The battery capacity of 1500 mAh is not much, but again, not bad at all at this price range. it is uncertain as of now regarding the talk time and the standby time that you will get, but we expect it to last around 6 to 7 hrs with moderate usage
Display and  Features
The display is 4 inches TFT LCD display with WVGA 480 x 800 pixel resolution. This will give you pixel density of 233 pixels per inched which is not bad. This is in line with what most manufacturers are offering these days. Since you are not going to use this device for graphic intensive gaming, it would suffice for all practical purposes.
This phone will come preinstalled with Android 4.2 Jelly bean Operating system. Few months back we could only find Android 4.0 in budget android devices but now the trend has changed for good. As the share of Android jelly bean increases in android market it will be of great ease to the App developers who can deliver better performing Apps. Presently only 6 to 7 percent of the Android devices have android 4.2
Looks and Connectivity
Karbonn has not yet specified the weight or body dimensions of this smartphone. The edges have a metallic coloring in the white variant and the back appears quite simple with a round camera censor and flash. The volume stereo is also present at the lower back side slightly aligned to the left. It offers more round-ed looks if you compare it to devices like Spice Stellar Glamour (which is more flat).
Connectivity features include Bluetooth with A2DP, WiFi, WiFi hotspots, GPRS,EDGE, GPS and AGPS. It supports Dual SIM in dual standby mode and also supports 3G video calling.
Comparison
Budget Android market now stands quite overcrowded with most manufacturers offering similar specification. Those looking for options can check Spice Stellar Glamour, Micromax Canvas Fun A74, Intex Cloud y2, Gionee P2 , Intex Aqua i4 and Cloud Y5 . 
Key Specifications
| | |
| --- | --- |
| Model | Karbonn A8 |
| Processor | 1 GHz Dual core |
| Display | 4 Inch WVGA, 233 ppi |
| RAM/ ROM | 512 MB / 4 GB |
| O.S. | Android 4.2 jelly bean |
| Camera | 5 MP / VGA |
| Battery | 1500 mAh |
| Price | 6,189 INR |
Conclusion
This phone is intended for first time users or those switching from feature phone to Android Experience. It will give you good value for money and if you don't like the looks or if no service center is available where you reside, you got many options to choose from. You can buy this phone from Saholic for 6,189 INR where you have an option to pay as low as 357 INR for 18 EMI, the processing fee of around 900 INR will be charged in that case.