Samsung officially launched galaxy gear and galaxy Note 3 in Berlin today. Samsung galaxy note 3 and Galaxy gear will be available in 149 countries altogether on September 25th.Galaxy gear comes in 6 vibrant colors and has been designed for everyday comfort. It is seamlessly connected to your Samsung galaxy device  in your pocket. You can watch all your notifications with a simple glance.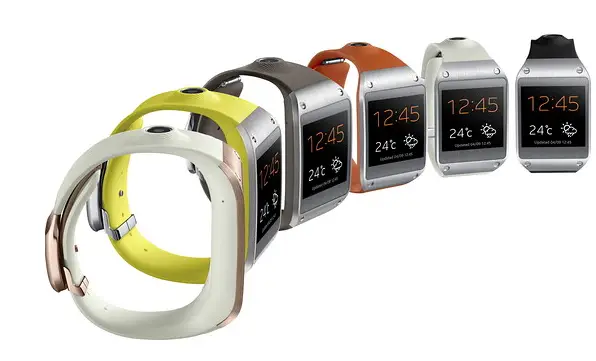 It is powered by 800Mhz processor and 315 mAh non removable cell which Samsung claims will last one day with regular use. The RAM capacity is 512 MB and the internal storage is 4 GB. There are two in built mics in this smartwatch with Noise cancellation support.
This watch comes with 1.6 Inch Super AMOLED display with a resolution of 320 x 320. You can just lift your hand and talk to attend your phone calls. You can receive calls and make calls without having to take your phone out of your pocket. You can also use voice commands, Svoice, to send message and instruct your phone.
An outward facing camera mounted on its strap helps you capture pics with  one click swipe down , Thus speeding up the process. You just have to swipe down on your screen and the pic is captured. This camera comes with a 1.9 MP BSI sensor and is capable of capturing 720 p HD videos.
The gadget promises a new world of augmented reality with endless possibilities. Gear will have its separate app store from where you can download apps. The disappointing part is that this watch will be only compatible with Note 3 and Note 10.1 for now though Samsung Galaxy S4 will soon get compatibility with OTA update. This watch has been priced at $299 for now.