Couple of months back Google launched its Impact Challenge in India, Whereby it invited non profits to submit ideas as to how they can make India and World a better place using technology. The four winners will get an Award of 3 crore rupees to accomplish their project.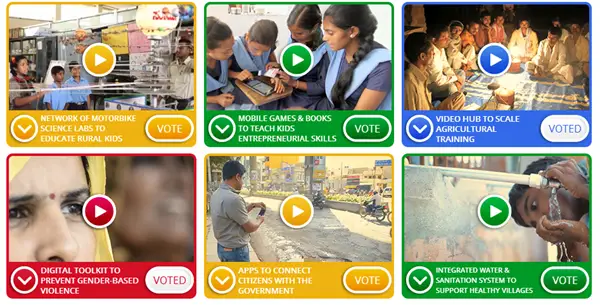 The submissions are complete and now it's time to vote for one spot among the 10 finalist selected yesterday. You can visit the Impact Challenge Voting page and vote for you favorite candidate up to 30th October. You can cast your vote for four projects which you think will benefit our country most and the one project will be a winner.
Apart from the voters, A elite panel of Judges comprising of 3 Google members including, board member Ram Shriram, Chief Business Officer Nikesh Arora, Director of Giving Jacquelline Fuller, along with social Worker and former Chairperson Thermax's Anu Aga and Omidyar Network India Advisors Managing Director Jayant Sinha, will hear out all the 10 candidates and will decide the rest of the 3 award winning projects.
Ram Shriram, judge and Google Board Member said "In the venture world you sometimes come across an idea and just know in an instant that it has the break-through model, exceptional team and scalable business plan needed to make a huge impact on the world. The 10 non-profit finalists that were announced today each have the potential to build positive change in India. They only need support to do so. I'm delighted to join Google and celebrate all of these innovative ideas, and I can't wait to see which will be brought to life with the public's support."
For us common citizens, its a wonderful opportunity to help people who are willing to take the pain for the change we would like to see in our country. avail this opportunity and vote for the project which you think will benefit India most.
Following is the brief details of the 10 finalist and Project you might like to read before you cast your Vote:
Agastya: Launch a network of motorbike science labs to address the lack of science equipment and digital resources for rural children
Breakthrough: Launch and scale a data-driven digital toolkit to enable anyone to launch an effective campaign to reduce gender-based violence
Chintan Environmental Research & Action Group: Develop an online marketplace and integrated mobile app to organize waste pickers and address the growing problem of trash in Delhi
Digital Green: Scale a video hub and an online knowledge platform to help farmers gain the agricultural skills they need to lower their costs and increase their productivity
Going to School Fund: Create open source mobile games to teach critical entrepreneurship skills to India's children
Janaagraha Centre for Citizenship & Democracy: Create online and mobile apps to connect citizens to their government representatives in urban India
Pratham Books: Build a collaborative, open platform that lets people share, translate and create children's e-books to provide kids with easy access to language-appropriate reading materials
Prayas Energy Group: Deploy a network of real-time sensors to monitor power supply provided by utility companies and improve power distribution quality in India
Shelter Associates: Conduct digital mapping of urban slums to identify service gaps and inform better infrastructure planning and sanitation development
Social Awareness, Newer Alternatives: Combine solar-powered micro-ionizing water purification and biodigesting technology to improve water and sanitation infrastructure for rural villages