GadgetsToUse is at Abu Dhabi covering the latest Nokia launches for you, and one of the most exciting devices launched today was the Lumia 1320, which becomes Nokia's first phablet and falls in the 'premium budget' segment. What do you think about this decision by the Finnish giant to try their luck in the phablet segment? Will Nokia be able to compete against other Android powered phablets from manufacturers like Samsung and HTC?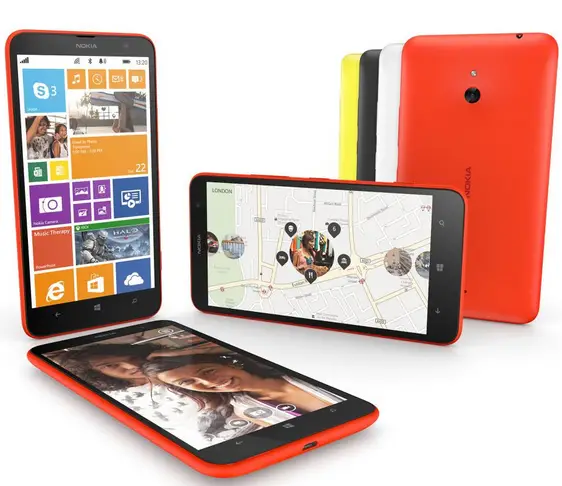 Camera and Internal Storage
The device takes it easy here. The cost cutting measures are evident with 5MP rear camera paired with a rather lacklustre VGA front. However, with a price of just $349 and the security of Nokia's build quality, you can't really complain. The device will be good for casual photography but series shutterbugs might want to look at other options which provide better cameras.
The device comes with just 8GB of on-board storage which again isn't great for a phablet, since it is expected that phablet users use the device as their on-the-go multimedia unit, which means quite a lot of space is taken up by media files. Gaming is another reason why Nokia should've gone for 16GB or 32GB variants; today's games usually take up GBs of storage. However, respite comes in the form of a microSD card slot which will allow you to expand storage as per your needs.
Processor and Battery
The device comes with the Snapdragon 400 chipset, which isn't the most powerful one around. Most other phablets of this day and age pack a more powerful chipset like the Snapdragon 800 and the likes. The chipset on this device comes with 2 cores, clocked at 1.7GHz each. Paired with 1GB of RAM, the device should make for a decent productivity phablet; however, if you expect cutting edge performance from this one while having loads of apps running in the background, you might well be in for some disappointment.
The phablet will be powered by a 3400mAh battery which seems like the only thing on the device which might make it a competitor to other phablets in the market. You can expect over a day's usage on this device with a single charge, the WP8 operating system is better at power management than the Android counterpart. People who are looking for a robust phablet at a decent price for productivity purposes will form a major part of the device's clientele.
Display and Features
The device comes with a 6 inch display which seems to be the 'in' size for this quarter of a year. Unlike others, the device comes with a 720p resolution which clearly won't be the best to look at. As mentioned earlier, the device seems to target those looking for the extra amount of screen real estate, which might not include multimedia because of the low resolution, internal storage, etc.
The Lumia 1320 will come with Windows Phone 8 installed, which will make it a very fluid device like all other WP based phones in the market today. Like always, you can expect frequent updates as well.
Looks and Connectivity
The phablet carries the trademark Nokia Lumia look with a coloured back put behind a black front. People do seem to like this design, and with many colours on option, Nokia is trying to have one for everyone.
Connectivity features include LTE, WiFi, Bluetooth, GPS/A-GPS, NFC, etc.
Comparison
The phablet can be compared to some new age 5.5 inch+ devices like the HTC One Max, OPPO N1, Huawei Ascend Mate, Samsung Galaxy Note 2, because it is a device that falls in the same range where the Lumia 1320 is expected to arrive.
Key Specs
| | |
| --- | --- |
| Model | Nokia Lumia 1320 |
| Display | 6 inches, 1280x720p HD |
| Processor | 1.7 GHz dual core |
| RAM | 1GB |
| Internal Storage | 8GB |
| OS | WP8 |
| Cameras | 5MP/VGA |
| Battery | 3400mAh |
| Price | Rs. 23,999 |
Conclusion
As you might have realized, the device is targeted at a certain section of the audience, unlike other phablets which have something for everyone. Nokia has done a good job keeping the price within reach, however, due to this, the company might lose out on a few buyers.
The phablet will mainly find buyers who are looking for a well-priced phablet with a Windows Phone OS. The market is full of Android based phablets, and the Lumia 1320 breaks the routine with its WP8. If you don't need the customizability of the Android OS and are looking for a good, robust device, you should definitely consider the Lumia 1320. Nokia had done well in India with pricing of their previous devices like the Lumia 520 which found a lot of buyers; we hope to see something similar with the Lumia 1320 too.
Lumia 1320 Hands on Review, Specs Camera and Overview HD[Video]