Google unveiled its latest Android version, Android 4.4 KitKat which comes with many changes under the hood and over it as well. Yes the new Android KitKat comes with new UI with transparent effect on navigation and status bar. The UI also offers an "immersive mode" which lets developers use the entire screen. Apart from the design changes, let's take a look at what the new Android KitKat is offering.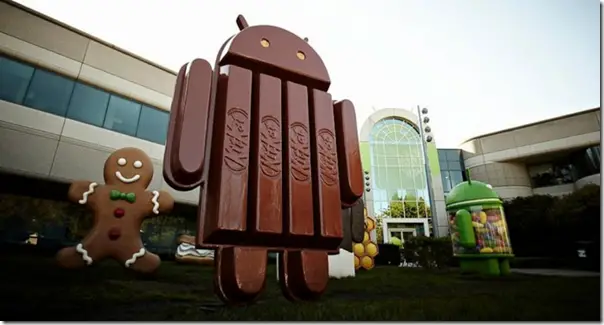 The major Highlighted feature of Android KitKat is its attempt to solve the fragmentation issue. Fragmentation refers to various Android O.S. like Gingerbread, Honey comb, Ice cream Sandwich and Jelly bean, co-existing together in android market. This makes it difficult for developers to make apps compatible on all android platforms.
The New Android 4.4 KitKat has been optimized to run on devices with up to 512 MB RAM. It provides support for Older Android devices to reduce the fragmentation issues. However, most OEMs are not likely to provide OTA update for older devices and that's the reason why Android Ginger bread still enjoys a surprisingly high 30 percent share.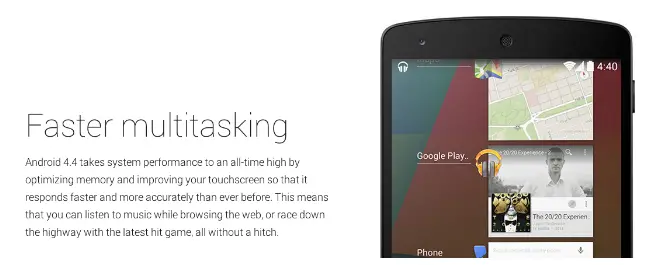 Another benefit of this "Project Svelte" feature is that the compatibility on the lower end hardware means it will be much snappier on the high end hardware with more responsive touch display and smooth multitasking. The New O.S. also comes with "Sensor Batching" and "WiFi Batching" which will help in significantly improving battery backup according to Google.
From the new Android KitKat you can access cloud and local content including images, google drive documents, etc from a single place. This new Storage access framework can be used by developers to integrate with their Apps as well.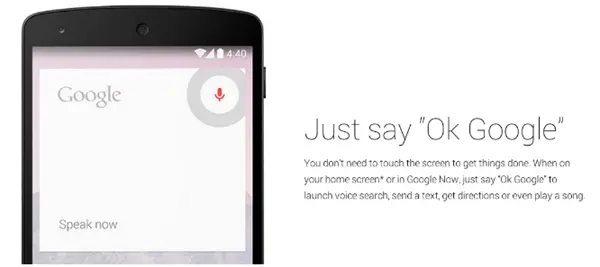 The KitKat Operating system has updated the surfaceflinger to OpenGL ES 2.0 which results in improved performance, better colors and support for more advanced special effects. The Nexus 5 will have the option to keep the always listening feature on, and you can launch Google search by simply speaking "Ok Google"followed by your querry.
The Phone app will automatically prioritize your contacts according to whoever you call frequently. If a number is not listed in your mobile contact list and it is present Google business listing, you caller ID will show you who is calling along with the Google Map listing. The Google Hangouts have been integrated with SMS and you can use Hangouts as your default SMS app.
Other features include Support for Step detector and Step counter sensor, a Screen recorder to create Walk through tutorials, More Bluetooth profiles support. Google has also improved and tweaked NFC features and we might finally see NFC payment a reality. This New O.S. will also bring wireless printing support on Android along with built in IR blaster support and various improvements and new options for Audio and Video playback.