As mentioned in the news post, it took the Nexus 5 more than just a few leaks and spy photos for a release. However, the device is indeed well worth the wait; at just 28,999 INR you get a phone with a 5 inch (4.95 to be precise, but we will address the display as a 5 inch one henceforth) full HD screen and the world's most powerful mobile processor in the form of the Snapdragon 800. Whether or not the device offers a good value for money is out of question, Nexus devices are usually the most cost effective, so is this one.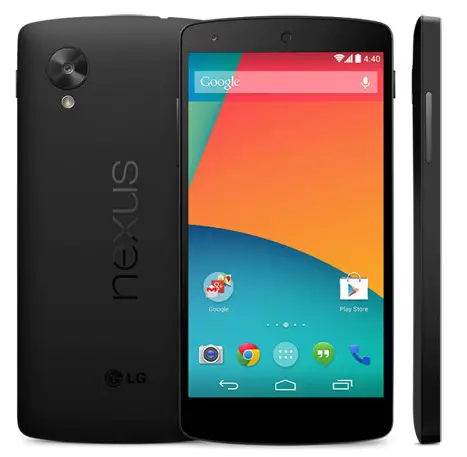 Let us take a look at the Nexus 5 under the GagdetsToUse scanner!
Camera and Internal Storage
Unlike other flagships of this year, the Nexus 5 does not feature a 13MP or a 20MP camera. Instead, Google ask their OEMs to go about their business in a more subtle manner with an 8MP shooter at the rear. As most of you might already know, it is not just the megapixel count that defines how good a picture would be; other factors like aperture, pixel size, stabilization, etc. have equal weightage. This 8MP shooter comes with OIS (Optical Image Stabilization), which promises to make your clicks sharper than ever. On the front, the phone comes with a 1.3MP shooter which is probably good enough for video calls.
On the storage front, the phone will feature 16GB and 32GB variants, which priced at 28,999 INR and 32,999 INR are a steal. We expect about 12GB and 26GB of user-accessible storage on the devices, respectively. As always, the phone will not have a microSD card slot which is a bit of a turn off.
Processor and Battery
The Nexus 5 kills its opponents with its Snapdragon 800 processor. This very processor is regarded as one of the most powerful (if not the most powerful) mobile processors, and comes with 4 cores clocked at 2.3GHz each. We have seen this processor being used in a variety of other devices which came in previously, however, the Nexus 5 remains to be the cheapest of them all. The phone will also feature 2GB of RAM which will allow you to have a load of apps running in the background without affecting the performance much. Games, productivity apps, etc., the phone will be able to run most/all of them at the highest possible settings without hiccups
The phone will come with a somewhat disappointing 2300mAh battery. However, you cannot blame Google since the phone is quite sleek at just 8.6mm and it would've been one task to fit this much juice in there. However, the Snapdragon 800 is known to have a great power management system which probably will mean more than 1 day of moderate usage. Heavy users might, on lucky days, be able to get one full day on a single charge.
Display and Features
One of the highlights of the phone is its 5 inch full HD display, which churns out a pixel density of 445ppi, promising fluid picture quality. 5 inch phones tend to be all-rounders, while being effective as multimedia devices, these phones are small enough to fit into your pocket without hassles. We're sure that everything from gaming to web browsing will be enjoyable on this 5 inch full HD screen. Thanks to the underlying hardware, you are guaranteed lag-proof performance as well, which, along with the 5 inch display, will make you like the device even more.
The phone will introduce Google's Android v4.4 KitKat, which brings with it many new features, some lying beneath the hood while some will be as visible as any. Most prominent of all is the reduced memory footprint, meaning that there will be much more free RAM which will be user-accessible on the phone.
Looks and Connectivity
Like the Nexus 4, this edition is a looker; sleek design, beautiful texture and thin bezels are some dimensions of this beast of a phone from Google, manufactured by LG.
Connectivity features of the Nexus 5 include 4G LTE support, WiFi, Bluetooth, GPS, and NFC. The phone will come with wireless charging as well.
Comparison
There are a handful of phones featuring the Snapdragon 800 that are already available in the country. Each one of these is seen as a competitor to the Nexus 5, however, as mentioned previously, the Nexus 5 is the cheapest of the lot which means that the phone will be favoured by many over the rest.
Anyway, other phones posing as threats to the Nexus 5 are Nokia Lumia 1520, LG G2, Sony Xperia Z1, etc.
Key Specs
| | |
| --- | --- |
| Model | LG Google Nexus 5 |
| Display | 4.95 inches, full HD |
| Processor | 2.3GHz quad core |
| RAM | 2GB |
| Internal Storage | 16GB/32GB, non expandable |
| OS | Android v4.4 KitKat |
| Cameras | 8MP/1.3MP |
| Battery | 2300mAh |
| Price | 28,999 INR for 16GB and 32,999 INR for 32GB variants |
Conclusion
There isn't much on the phone that leaves us wanting for more; however, we would've loved to see a bigger battery. A 3000mAh unit would've been perfect, but nonetheless, the device impresses. At just 28,999 INR, the device is pretty much a steal and probably a market-killer for phones like the LG G2. We're sure that the device will get a lot of attention that's due, and will sell in scores. For the first time, the Play Store listed the device in India at the same time as other regions, which is a big plus. However, the device is in the 'coming soon' phase at the moment, and should arrive in the country anytime this fortnight. Get one before the stocks run out, is what we say!