The Swype keyboard is now available for download from Amazon Appstore for Android and will now support four additional regional languages along with various other added features including Bilingual support, continuous dictation and customization options.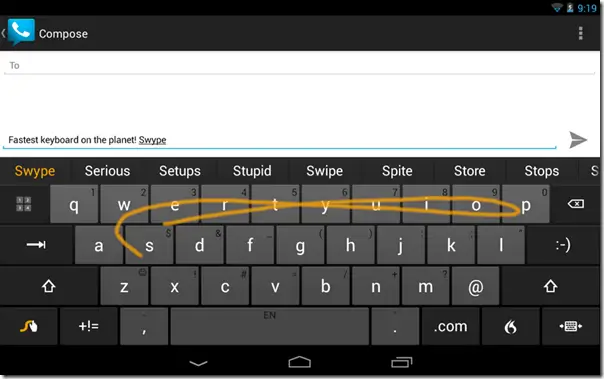 "Swype has always been first to market on innovation that creates intuitive and personalized typing experiences," said Aaron Sheedy, vice president of mobile solutions, Nuance Mobile. "With these latest enhancements, Swype continues to be the only keyboard people will ever need for Android – fully customizable and available to take with you on any Android device now and in the future."
The 4 new languages supported by Swype are Gujarati, Malayalam, Marathi and Telugu apart from the earlier Tamil, Urdu, Hindi and Hinglish (a mixture of Hindi and English). The bilingual support will allow you to enter text in two languages and to quickly switch between them. The words suggested by Swype will also be in accordance with the selected languages.
Now you can select a dictation language different from Keyboard language and speak instead of typing. You can select the dictation language in Hindi and keyboard language in English. All your Hindi words will be typed in English script, and that is something most people could use.
You can now decide how tall or wide you would like your keyboard to be according to the size of your fingers. You can also select keyboard layout of your choice from QWERTY, QWERTZ or AZERTY depending on the language that you speek. When you select your text and swipe to 'S', a search will be launched automatically in the browser.
Visually challenged people can benefit from the added accessibility features as the Swype keyboard will now support Android's "Talkback" and "Explore by Touch" accessibility features. When enabled, user inputs text will be spoken back to the user."Explore by Touch" lets users navigate through the keyboard and hear each key spoken aloud. You can also select from suggested words by simple circular motion, scrub gesture.
These enhanced features add to the value of already popular Swype keyboard make it powerful and even more user friendly. You can buy this keyboard from Google Playstore or From Amazon App store for Rs. 248.