For those who like it loud, Intex has launched 4 new models of DJ Speakers namely DJ 215K SUFBT, DJ 420K SUFBT, DJ 220K SUF and DJ 230K SUF. These new the 10" & 8" speakers generate deep bass with power output of 80W to 120W.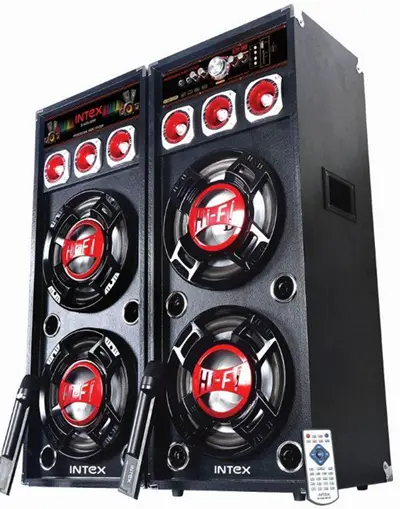 Commenting on the latest range, Vikram Kalia, General Manager – Product Management, Intex Technologies said, "With the addition of DJ speakers to multimedia speakers range, we are now addressing a wider customer bacause and particularly those who want exceptional sound system. We at Intex believe that the ultimate fun lies in experiencing music at its loudest level and this was the thought behind launching our new range of DJ speakers. The new range of DJ speakers is ideal for users such as college youth, young professionals looking to amplify their music experience to a club-like sound."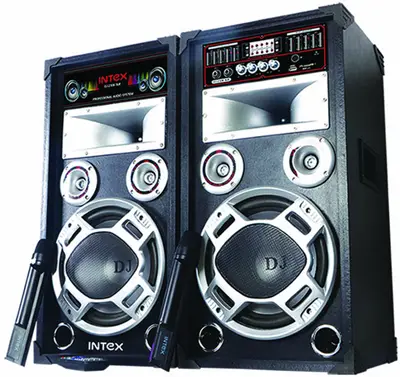 DJ 420K SUFBT and DJ 215K SUFBT speakers are Bluetooth enabled for wireless streaming of data in 10 meters range. You can also plug in USB/ MicroSD card directly with music files in MP3 format. You can listen to FM channels directly too on all 4 of these speakers. You will also get a Remote control with all of these speakers.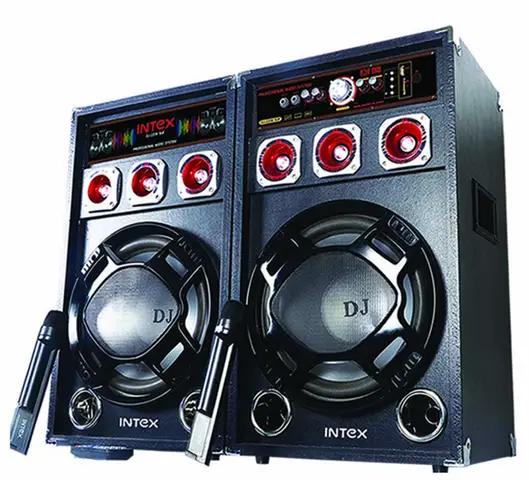 Apart from DJ 215K SUFBT which has Single cordless mic, all of the other three speakers come with Double cordless Mic. the 3" tweeters have multicolor LEDs which glow as per the power output generated by the speakers. For price details and other specs, you can read the following table.
| | | | | |
| --- | --- | --- | --- | --- |
| Model | DJ 215K SUFB | DJ 420K SUFBT | DJ 220K SUF | DJ 230K SUF |
| Bluetooth | Yes | Yes | No | No |
| Cordless Mic | Single | Double | Double | Double |
| Sensitivity | < 550mV | < 550mV | < 550mV | < 550mV |
| S/N ratio | >=60dB | >=60dB | >=60dB | >=60dB |
| Speaker Unit | 25.4cm (10″) x 2 + 7.62cm (3″) x 6 | 25.4cm (10″) x 4 + 7.62cm (3″) x 6 | 30.48cm (12″) x 2 + 7.62cm (3″) x 6 | 25.4cm (10″) x 2 + 7.62cm (3″) x 4 |
| Remote Control | yes | yes | yes | yes |
| Price | Rs. 11,705 | Rs. 17,000 | Rs. 14,275 | Rs. 10,090 |