Update: 2/1/14 Intex's first Octa core smartphone is now available for purchase and has been named Intex Aqua Octa (instead of Intex i17 which we saw on the prototype version).
Intex yesterday unveiled its True Octa Core MT6592 handset, Intex i17 (Initial Hands On Review) in India at a launch event in Delhi. This will expectedly be the first Octa core smartphone to make it to the shelves in India sometime in January 2014. Interesting part is that Intex has priced this phone sun Rs. 20,000 mark which might appear as a worthy option over quad core MT6589 phones at least on paper. Let's see what Intex is offering with this octa core smartphone!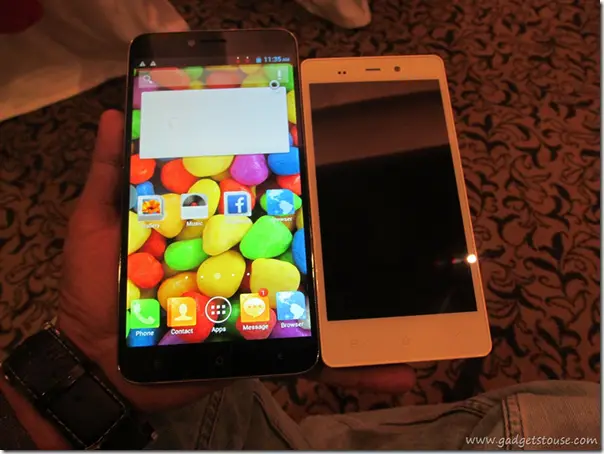 Camera and Internal Storage
The primary camera has a 13 MP sensor similar to most MT6589T phones. The new octa core chipset supports up to 16 MP camera but Intex has decided to go with conventional 13 MP/ 5MP camera combination. The Autofocus camera with LED Flash is capable of full HD 1080p video recording.
The camera performance seemed similar to what we have seen on other MT6589 devices in our initial hands on with this phone. However, we didn't test the shutter speed and camera sensor extensively under different Ambient light conditions.
The Internal Storage on this phone will be 16 GB and 32 GB. No microSD slot was present on the prototype and it seems the storage will not be extendable. Out of 16 GB, 13 GB will be available at the users end. The RAM capacity is 2 GB and out of this 1.6 GB will be free at the users end, which is admirable.
Processor and Battery
The Processor employed is MT6592 True octa core chipset from Taiwanese giant MediaTek. The 8 cores are based on Cortex A7 architecture and formed on 28 nm process technology. The benchmark scores of prototype units (with 1 GB RAM) of this chipset popping up on internet haven't been outstanding considering the four extra cores. The GPU used is Mali 450 MP4 GPU clocked at 700 MHz and this chipset will also support 4K video playback, a feature which won't matter to most people.
The Battery capacity is 2300 mAh and more cores running simultaneously will consume more power. The 6 inch mammoth display will also tax your battery. The phone is expected to last a day with moderate usage, which implies a cap on fully using the processing power offered by the octa core chipset. The good thing is, that in spite of sleek body design the battery will be removable.
Display and Features
The Display is 6 inches in size and will appeal to those interested in enjoying multimedia content and reading on their smartphones. The display resolution is 720p HD which gives you 244 pixels per inches and is not very impressive.
The MT6589T devices did not perform very well on Full HD displays while processing graphic intensive gaming apps. We expected MT6592 to eliminate this constraint, but we will have to wait a little longer to find out.
The phone runs on Android 4.2 jellybean operating system and the UI is slightly customized. You will also get 1.2 W dual Yamaha speakers at the back for that extra power. According to the prototype we have seen the phone will also have Dual SIM support.
Looks and Connectivity
The phone comes in Black and White color variants. The white variant has a silver back cover and looks more premium. The Phone is only 7 mm thick and is comfortable to hold in hand in spite of the large display. Connectivity features include 3G, WiFi, Bluetooth and GPS support.
Comparison
No other phone is offering octa core chipset in this price range and thus in this regards it stands all alone for now. For those interested in large displays and don't really need the extra processing power, can opt for phones like Micromax Canvas Doodle 2, Huawei Ascend mate and Samsung Galaxy Mega 5.8.
Key Specs
| | |
| --- | --- |
| Model | Intex Aqua Octa |
| Display | 6 Inch, 1280 x 720 HD |
| Processor | 1.7 GHz Octa Core |
| RAM | 2 GB |
| Internal Storage | 16 GB/ 32 GB |
| OS | Android 4.2 Jelly bean |
| Cameras | 13 MP/ 5 MP |
| Battery | 2300 mAh |
| Price | 19,999 INR |
Conclusion
More cores will definitely provide you with more processing power, only if you need it. The phone will expectedly give better gaming performance, but is expected to be harsh on your battery which is not an acceptable tradeoff for most people. The octa core option below 20 K mark is definitely very tempting.We will update you with the actual difference in performance after our full review of the device.
Intex was first to bring MT6589T Full HD smartphone Intex Aqua i7 and budget quad core MT6582 powered Intex Aqua i6 in India. Now it has announced its octa core phone earlier than the rest and this will definitely give this phone a huge marketing advantage.
Intex i17 MT6592 Octa Core Phone Hands on Overview, Hardware and Specs Explained [Video]