Few days back UC browser for Windows updated with various new features including background download support and today UC browser for Android updated to 9.4 version with various new and improved feature which will definitely make a difference to your web browsing experience.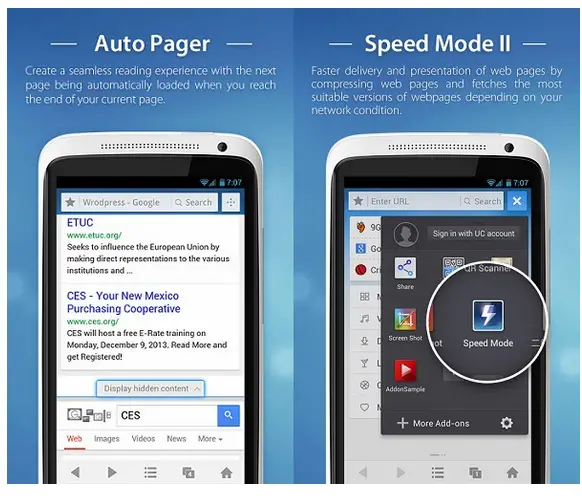 The highlighted feature of this browser is Auto pager feature which preemptively loads the next page before you scroll down to it, thus eliminating the annoying progress bar while loading pages for picture-perfect reading experience.
The Speed mode can also come in handy for those equipped with low speed data connections. When you switch to this mode, the browser will compress the webpages and download the most suitable version of the webpage depending on the network condition.
The browser also claims improved efficiency of network connections to double download speed. If you are using Facebook from browser, instead of the Facebook Mobile App (which is rare), you can download your Facebook pics directly from this browser.
Another much useful Facebook related feature, is that you can directly record a video from Facebook Video Uploader and upload it to facebook with just one single Step. The new Browser will also support Android 4.4 KitKat. Hindi language support has also been added in this new updated version along with typing optimization.
UC browser's last Android update brought some much appreciated features like automatic resuming of downloads after interrupted internet connection, sneak peak in to videos before complete download, along with various other add-ons. All these new features coupled with the new update makes UC Browser a very tempting option. You can further check the video below to better understand added features. You can Download UC Browser for free from Google Playstore.
UC Browser 9.4 for Android [Video]