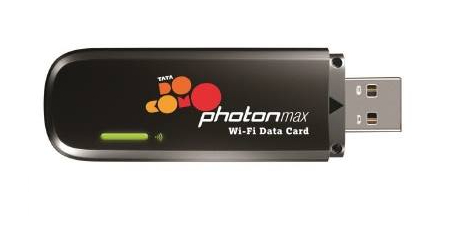 A new kid is on the block of Photon data connectivity devices and Tata Docomo is calling it Tata Photon Max Wi-Fi. The device is essentially an USB internet dongle but with a built in Wi-Fi hotspot. The device is priced at Rs. 1,999.
Like every other USB internet dongle, Photon Max Wi-Fi can be powered by any USB port and can serve up to 5 Wi-Fi devices simultaneously. The company claims that the device's Wi-Fi hotspot has a range of 100 meters and is capable of peaking downloads speed of 6.2 Mbps.
With the device other Photon benefits are also included, like free national roaming. At paper the device looks promising and the reasons are obvious. The device omits the need of any additional routers for Wi-Fi connectivity. Instead you can plug the device in your laptop or any other USB power adapter and enjoy surfing the web on Wi-Fi enabled gadgets.
However, we believe the device's success depends on the availability of network as well as affordability. Provided that the device is available at an affordable price of Rs 1,999, post purchase plans matter a lot. Presently, the Photon Max's speed of 6.2 Mbps is limited to just around 30 cities. Rest of the users of other cities will get a speed of 3.1Mbps to 153.6Kbps.
For unlimited plans with fair usage in Photon Max Wi-Fi, you will at least have to shed Rs. 650 every month for postpaid connection and Rs 730 for prepaid connection. Here is a little sneak peak of the plans available, however these may vary with region: