Celkon Mobiles has launched a feature phone, Celkon C76, which has been priced at Rs. 1,899. The Highlighted feature of this phone is that it supports 8 different languages which include Hindi, Gujarati, Punjabi, Bengali, Tamil, Telugu, Kannada and English.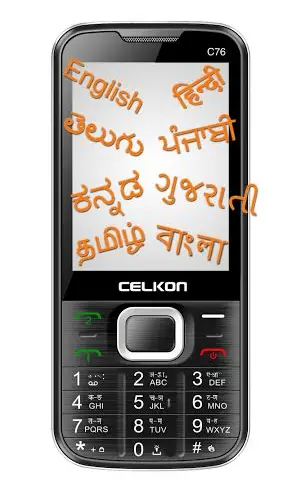 Celkon C76 has been designed to cater to the needs of music lovers and comes with wireless FM connectivity along with extendable storage up to 16 GB. The Dual SIM phone basic 1.3 MP camera module at the back and other connectivity features include Bluetooth and GPRS.
Commenting at the launch, Mr. Y Guru, Chairman and Managing director, Celkon Mobiles said "The launch of C76 is another milestone for the company. We at Celkon have always catered to the increasing needs of mobile phone users. Introducing a multi-lingual phone will reach out to the majority people spread across the regional boundaries. This will enable users to send Text messages in their respective Mother tongue and perform other linguistic activity."
The display size is 2.8 Inch which is sufficient enough for budget android phones. The battery capacity is 1400 mAh. You can buy this phone from various retail outlets in India for Rs. 1,899.
Key Specs
| | |
| --- | --- |
| Model | Celkon C76 |
| Display | 2.8 Inch |
| Cameras | 1.3 MP |
| Battery | 1400 mAh |
| Price | Rs. 1,899 |