The new Nokia Asha Phones, including Nokia Asha 500, 502 and 503, follow a layered design approach and come in multiple colors which make them very attractive. The Nokia Asha 500 is the most affordable product in the Nokia Asha family and it is a nice durable phone to own if you are interested in Social Networking and are tight on budget. Let's take a further look into what Nokia is offering with this low end Asha series device.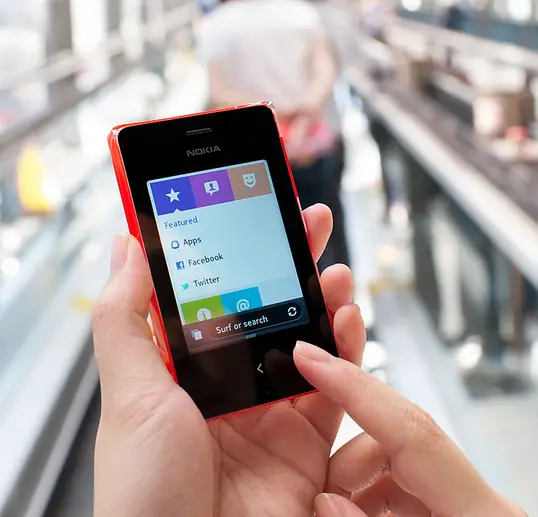 Display
The display of Nokia Asha 500 is slightly smaller as compared to Nokia Asha 501, 502 and 503. The display is 2.8 inches in size and comes enabled with features like double tap. The TFT LCD 2 point multi touch display has 320 x 240 pixel resolution which will give you pixel density of 143 pixels per inches, which should be enough considering the intended usage and the small screen size.
All other members of Nokia Asha family sport a 3 inch display and the Nokia Asha 503 also enjoys corning gorilla glass protection.
Performance and Software
The Nokia Asha 500 is is based on Nokia Asha software Platform 1.1 similar to its counterparts. The internal memory is extendable to 32 GB using MicroSD card. You will also get a 4 GB microSD card with the device. The RAM capacity is 64 MB.
The major performance highlight of Nokia Asha devices is the Fastlane feature. Using Fastlane, you can easily swipe to your recent activities. You can share pictures and files on social networking sites, including Facebook and twitter, and also see notifications in the Fastlane if your friends respond to your updates.
You can easily swipe to camera App, sharing and gallery. Globally popular WhatsApp messenger is also available on Nokia Asha 500. Various other apps like Line messenger, Picfeed, etc are also available for the Nokia Asha ecosystem.
Camera and Battery
A 2 MP fixed focus camera is present at the back of this smartphone and don't expect it to work wonders. The sensor size is 1/5 inch and aperture is F/2.8. You will also get a still image editor in this phone. You can also click pictures and easily share them over Facebook or twitter using Fastlane.
The battery capacity of 1200 mAh will provide you with 14 hours of talk time on 2G and with 46 hours of music playback time. The video playback time will be 9.5 hours. 2G internet browsing time is 11 hours which is pretty good. Overall the battery won't be any issue and will live up to the brand name.
Looks and Connectivity
The phone comes with two polycarbonate layers. Nokia claims that the outer transparent layer, gives a vibrancy of the color. The material has been thickened at the corners to exaggerate the sensation of depth. The Nokia Asha 500 weighs 101 grams and is available in 6 different colors namely, Bright Red, Bright Green, Cyan, Yellow, White and Black.
Connectivity features include 2G, WiFi, Micro USB and Bluetooth 3.0. The SIM slot provided is for Micro SIM. you can get both Single SIM and Dual SIM variants for this smartphone.
Comparison
This basic phone will compete against other Asha series phones like Nokia Asha 502, Nokia Asha 501 and Nokia Asha 503. The phone will also present a more durable option to other basic budget android phones like Lava Iris 356 and Intex Cloud X3.
Key Specs
| | |
| --- | --- |
| Model | Nokia Asha 500 |
| Display | 2.8 inch, QVGA |
| RAM | 64 MB |
| Internal Storage | 64 MB, Extendable |
| OS | Nokia Asha Platform 1.1 |
| Cameras | 2 MP |
| Battery | 1200 mAh |
| Price | Rs. 4,499 |
Conclusion
The Nokia Asha 500 is a durable device from Nokia and will be well suited for feature phone users, who wish to engage in simple social networking and are tight on budget. The phone will be a more durable option then low cost budget Android phones in the same price range, with in effective after sale services and limited performance parameters. If you can do with 2G connectivity, it will be a commendable option at this price range.
Nokia Asha 500 VS 502 VS 503 Comparison Review