And here we have another player trying to make it big in the domestic budget market. The heartening thing to see here is that this manufacturer, namely Oplus, seems keen on producing budget tablets and not (only) smartphones. The device which we will be discussing here is the Oplus XonPad 7, which was launched yesterday at an event in New Delhi. The tablet comes with a 7 inch screen and a price tag of under 10k INR, let us discuss if it is worth the money.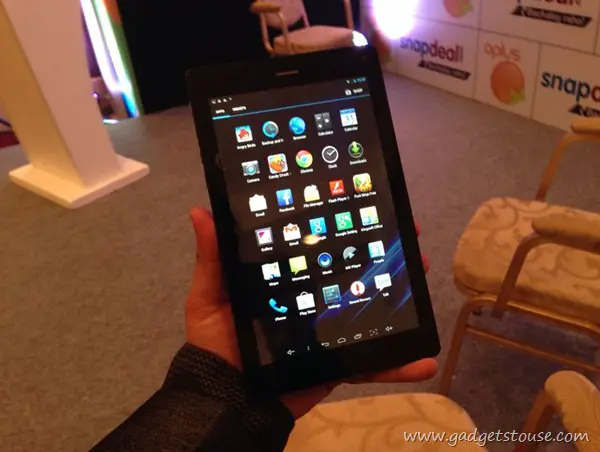 Hardware
| | |
| --- | --- |
| Model | Oplus XonPad 7 |
| Display | 7 inches, 1280 x 800p |
| Processor | 1.2GHz quad core |
| RAM | 1GB |
| Internal Storage | 16GB |
| OS | Android v4.2 |
| Cameras | 5MP/2MP |
| Battery | 3500mAh |
| Price | 9,990 INR |
Display
The tablet features a 7 inch display, just like the Nexus 7. The Nexus 7 has been dominating markets from across the world, so Oplus have made a safe bet with the display size. There's a resolution of 1280 x 800 pixel on the panel, which is not bad for a device priced under 10k INR. Gaming and other forms of multimedia will be quite enjoyable on the device thanks to the resolution. All in all, the display can be classifies as an all rounder – decent enough pixel density without overburdening the hardware.
Camera and Storage
Nothing too great here, as you would expect on a tablet, that too one which is priced under 10k INR. The device comes with a combo of a 5MP rear camera along with a 2MP front. If you limit your expectations, you will probably be a happy user. Tablet vendors anyway expect you to have a smartphone, and which is why they hardy include powerful imaging hardware on tablets. The 2MP front is what should concern you more. It should be usable enough in daylight, though.
It comes with an impressive 16GB ROM on-board, which is not very common for a sub-10k INR device. There's also a microSD slot which you can use if the 16gb falls short of your needs. All in all, the device has an impressive storage department.
Processor and Battery
The device features a 1.2GHz quad core processor which is pretty much standard for any mid-range device of this age. You will be able to use the device for most tasks that include productivity, like your note taking app, web browsing app, etc. Even casual games like Angry Birds Go, SquadStrike FPS, etc. will run smooth on the device. However do not expect it to replace your gaming rig, to be a happy user. 1GB RAM means the device will be an average to good multitasker.
The battery is probably the only weak link in the device's specs sheet. As you can see from the table above, it comes with a 3500mAh unit which should take you through 3-4 hours of screen on time. Depending upon your usage pattern this can mean anything between an afternoon and a whole day of usage.
Form Factor and Competitors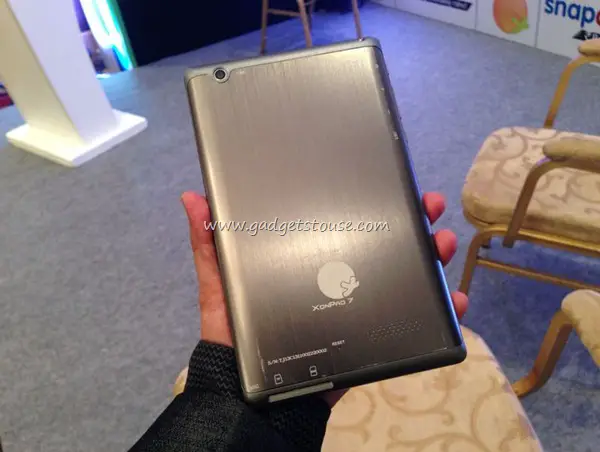 Design
The device has a very classy metallic look to it, something we haven't yet seen in a device of this calibre. We do like the design, and assume most potential buyers would too.
Competitors
Conclusion
We really like the design of the tablet. The fact that it comes with a good 16GB of on-board ROM is quite impressive too, but not unique in any way. However, if you have a budget of around 10k INR, you can definitely take in consideration the Oplus XonPad 7. There's also 3G connectivity via SIM card which is a great addition to any tablet. We foresee the device doing very well in the competitive Indian market.
Oplus XonPad 7 Hands on, Review, Unboxing Features, Camera, India Price and Overview [Video]