UC browser for Android recently updated to version 9.5 and with this new browser, UCWeb Inc claims it to be the fastest Android browser around. Let's take a look at the significant changes in this new update.
UC Browser will now provide 15 percent faster download compared to the previous version on 3G and WiFi. Performance on 2G operating system has also been accelerated. This is achieved through segmented file transfer and multi-threaded downloading technologies to split a single file into separate parts and download those parts simultaneously through multiple channels.
UC Browser also added support for various regional languages including Tamil, Telugu, Malayalam and more. If you are browsing through foreign language web page, Browser will send a pop up notification asking your permission to download the language. Various new fonts have also been added.
Web Apps based on HTML 5 are slowly gaining popularity and UC Browser now features a web application center from where you can download web Apps. You don't even have to worry about updating the HTML5 based web apps.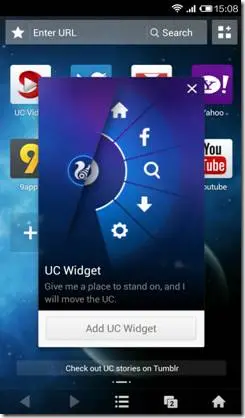 Another highlighted feature of UC browser include various add-ons which you can download for smooth operations. These include Facebook Photo Uploader, Screenshot Taker, Gesture Controller, etc. Apart from these changes you will get a home screen widget, a image viewer and other enhancements include optimizations made to typing, gesture control and font adjustment. You can download UC Browser for Android for free from Google Playstore.