As per our exclusive sources, Oppo will soon launch its world renowned OPPO N1 in India by the end of this month. As is evident from the tentative launch invite image below, Chinese Giant Oppo's foray in Indian market will start at the end of this month, on 30th January with the first smartphone in the series being OPPO N1, which will be launched by Bollywood stars Hrithik Roshan and Sonam Kapoor.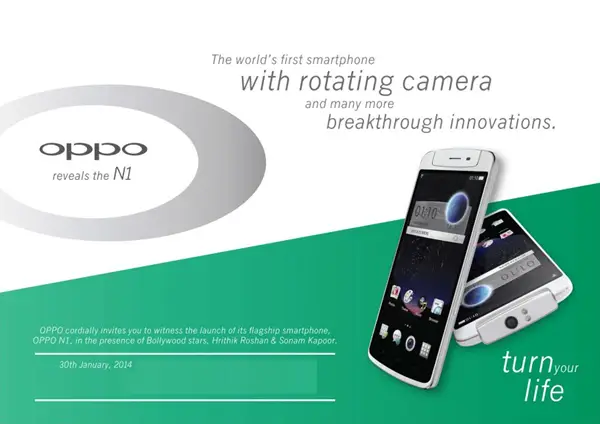 This phone is powered by 1.7 GHz Snapdragon 600 quad core processor with Adreno 320 GPU. The RAM capacity of 2 GB will ensure smooth UI transitions and multi tasking. The Internal storage is not expandable and is fixed at 16 GB / 32 GB in two variants.
The 5.9 Inch super sensitive Display features Full HD resolution of 1920 x 1080 pixels thus resulting in 377 ppi. The camera is a major highlight of this phone. The 13 MP CMOS sensor camera (from Sony) features 6 lenses stacked over one another. The wide Aperture f/2.0 camera is supported by Fujitsu IPS imaging chip. Dual LED flash is also present to assist you with low light photography.
The Swivel mechanism which lets the camera module rotate by 206 degrees has been tested for 100,000 swivels, which implies that you don't have to worry about mechanical deterioration for many years. The area under the camera is touch sensitive and has been named – O Touch. You can use O Touch to play music or browse web. This makes more sense than LG rear key at the first go.
The battery capacity is 3650 mAh which is adequate considering the display size. At the launch of this phone, the price was around $571. The phone will be priced in premium range and it wouldn't be wise to consider it a budget segment device. Oppo is a big name in China as well as globally. We receive various queries about its arrival in India and this implies the company already enjoys fan base in India even before their official arrival. We are excited for OPPO N1 launch and will update you with further details as soon as they surface.
Key Specs
| | |
| --- | --- |
| Model | OPPO N1 |
| Display | 5.9 Inch |
| Processor | 1.7 GHz Snapdragon 600 Quad core |
| RAM | 2 GB |
| Internal Storage | 16 GB/ 32 GB |
| OS | Android 4.2 jelly bean based Color operating system |
| Cameras | 13 MP camera with Swivel |
| Battery | 3650 mAh |
| Price | To be Announced |