Nokia event is live at MWC 2014 and besides mentioning Software updates, new Apps and upcoming devices like Nokia 220 and Nokia Asha 230, Nokia has also unveiled the much awaited Nokia X! The phone has been unveiled in Green variant and does looks like rumors suggested. Nokia also unveiled Nokia X+, another phone based on forked Android os.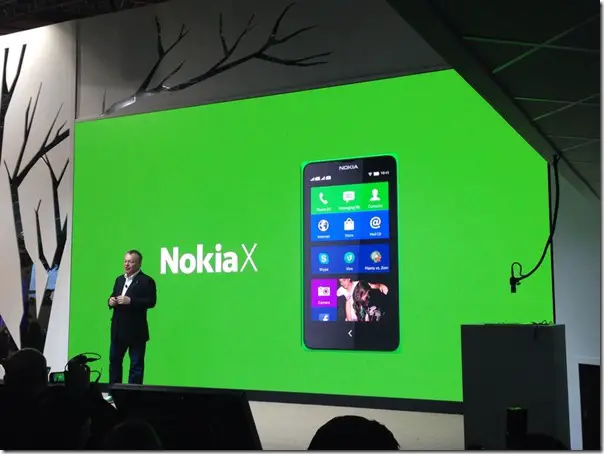 The phone will come with plenty of colors – yellow, white, black and red. Their will be no Google playstore on this android phone as expected. The display is 4 inches in size and features MicroSD support. Software features include Here Maps, MixRadio, Skype and Outlook will be offered.
You can access the Nokia Store and other third-party stores like Yandex. You can also sideload apps using MicroSD and the pre-loaded file manager. The X also has a glance screen similar to other Nokia phones. You can swipe to unlock an asha like Lock screen to get a familiar tiled homescreen.
Folders and widgets are also supported. You can also resize the tiles and customize them. Nokia also showcased several Apps on Nokia Store along with several changes it made to the popular Fastlane app, which we liked on Asha devices.
Anyone who buys Nokia  X will get a 1 month subscription for Skype, and 10GB free OneDrive storage. The Nokia X has been priced at Rs. 7,500 and Nokia X+ at 8,500 INR. Nokia X+ will be available from second quarter.
Another device is Nokia XL, The phone sports a 5  Inch WVGA display with 5 MP camera at the BACK and a 2 MP shooter at the front. The camera is also supported with LED flash. This will be the bigger addition to X family priced at Rs. 9,300. It will be available in Q2 along with X+.
Key Specs
| | | | |
| --- | --- | --- | --- |
| Model | Nokia X | Nokia X+ | Nokia XL |
| Display | 4 Inch WVGA | 4 Inch WVGA | 5 Inch WVGA |
| Processor | 1 GHz Dual Core Snapdragon 8225 | 1 GHz Dual Core Snapdragon 8225 | 1 GHz Dual Core Snapdragon 8225 |
| RAM | 512 MB | 768 MB | 768 MB |
| Internal Storage | Expandable to 32 GB | 4 GB,  Expandable to 32 GB | 4 GB,  Expandable to 32 GB |
| Thickness | 10.4 mm | 10.4 mm | 10.8 mm |
| Cameras | 3 MP | 3 MP | 5 MP/ 2MP |
| Battery | 22 days Standby, 10.5 hours Talk time on 3G | 22 days Standby, 10.5 hours Talk time on 3G | 26 days Standby, 13 hours Talk time on 3G |
| Price | 89 Euros | 99 Euros | 109 Euros |
Nokia X Family Photo Gallery