LG Lifeband Touch was first showcased at CES. The LG Lifeband is compatible with all iOS and Android devices with Bluetooth 4.0 functionality. We got to spend some time with LG lifeband Touch and the smart band (or watch) seems to follow a very pragmatic approach. LG Lifeband was one of the first few fitness emphasizing wearable when it was initially introduced at CES, but 2 months later, the competition is tough.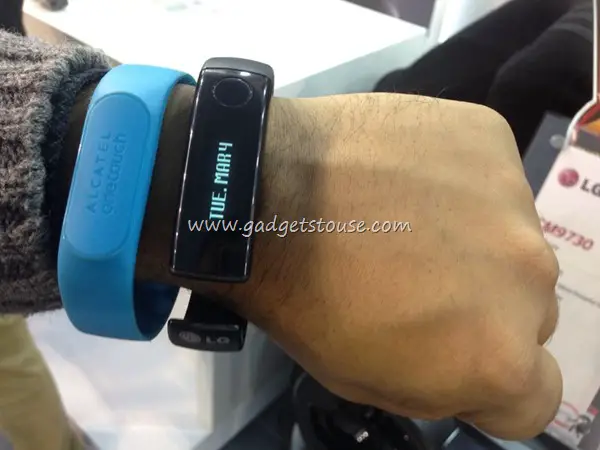 LG Lifeband Hands on, Features, Comparison with Alcatel Boomband and Overview [Video]
Design and Build
The LG Lifeband Touch features an Open ended body design similar to popular Nike Fuelband instead of conventional strap and lock. It also comes in 3 different sizes to keep everyone happy. The Lifeband is water resistant but its water endurance is limited to occasional exposure to rains and splashes.
The display used is a 3 inch OLED screen, which is competent enough to do the job, but not as extravagant like Gear Fit. You can swipe through the display to view various menu options. You can't charge this band with a
Fitness Tracker
LG Lifeband features a fitness tracker which is now common in several wearables that we saw at MWC 2014. This is done with the help of altimeter and accelerometer. This enables the Lifeband to keep track of how many steps you walk or run, how much distance you travel on foot, how many steps you climb and how many calories you have burnt.
In case you want to track your heart rate, you will have to connect it to external heart rate monitor or LG's heart rate earphones. The major thing lacking in this device is sleep tracker. Technically the band is equipped with the hardware to track your sleep, but LG has not provided this much needed feature.
LG Lifeband Touch Photo Gallery
Other Functions and Verdict
The LG life band also comes with call notification and other phone extension features. Other features include music control, Volume control and call silencing. Oh, and yes it tells time too. The Lifeband is also compatible with third party apps like Runkeeper and MyFitnessPal. The smart band is not the best one out there but it can be quite desirable if the price is right. The biggest plus point being the universal compatibility. LG will announce the price of LG heart rate earphones and