McAfee Antivirus and Security App is now available for free on Google Play Store for Indian users as well. McAfee app will over security services including anti-theft, anti-virus, app protection, web protection, call and SMS filtering.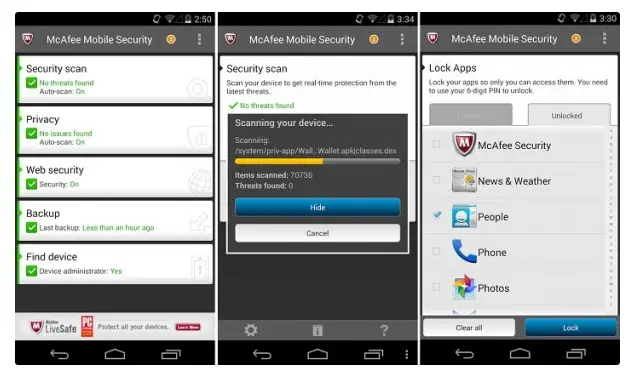 "With India placed on the tip of mobile device explosion, there is an overwhelming need of adoption of security and privacy protection in our digital lives. With free access to our award-winning mobile security product, Indian consumers will be empowered to access all the benefits of this connected world and enjoy a safe mobile life," said Jagdish Mahapatra, Managing Director, India and SAARC, McAfee.
The App will protect users from Malware along with several additional features like call blocking, remote locking of smartphone, and capturing snaps of the person holding your smartphone.
The SOS feature automatically saves your GPS location before your phone runs out of battery. The app will also allow you to remotely wipe all smartphone data and also to backup and restore data. Locate and track feature allows you to find your device when you lose it. uninstall protection feature will prevent the thief from deleting the McAfee App from your device. You could also trigger an Alarm to find your phone when it's hiding under the pillow.
Smart thieves will set the phone in Airplane mode as soon as they steal your phone, thus rendering most of the above features useless, but you could always benefit from several other privacy and Antivirus features of McAfee App, especially when it comes for free. Hit the download link below to try all these features first hand. You could also go through full list of features as specified by McAfee on play store after the break.
Download: McAfee App Play Store
Key Features
Privacy Features
Multi-User App Profiles-Restrict access to your apps by using one of the three profiles provided by the App Profile feature to create "safe" zones for your kids, friends, family or even a stranger. You control what apps others see on your device
 App Lock—Lock apps with sensitive content to protect your privacy
 App Protection—Scans apps and reports about apps that may expose your data without your explicit consent including exposure posed by embedded or mobile ad libraries
Call Blocker and SMS Filter—Easily block unwanted calls, numbers and texts—prevent spam
Antivirus and Web Protection Features
Android Antivirus—Scans for malicious code from files, SD card, apps and Internet downloads
Safe Mobile Web Surfing—Protection against web threats by blocking access to risky sites from texts, emails, QR codes and social networking sites
Wi-Fi Security-Alerts you of unsecured Wi-Fi connections
Anti Theft Features
CaptureCam – Silently takes a snapshot of the person holding your lost device and emails the photo to you along with the device location. Snapshot triggers include multiple times of incorrect PIN entry and first key press on device after delivery of a message sent from the McAfee remote management portal
 S.O.S – Automatically saves the last location of your device before it runs out of battery
 Device Lock—Prevent misuse of your phone and personal info by remotely locking it Remotely Wipe Data—Wipe select data or revert to factory default settings
 Backup and Restore Data—Preserve contacts and SMS' on demand, or on a schedule, then restore your information to your new device
 Locate and Track — Find your device if it is lost or stolen. View its location on a map; send a text to prompt its return
 Alarm — Initiate a remote alarm to locate your device if it's hiding nearbyUninstall Protection—Keep a thief—or another user—from uninstalling the app and accessing your  Android tablet or phone
Remotely manage your mobile security from one central, easy-to-use web portal or even via SMS texts using any smartphone or tablet