At the MWC 2014 tech show, renowned chip maker Qualcomm announced their latest offering – Snapdragon 801 that is claimed to provide a speed bump for the upcoming wave of flagship smartphones from the tech titans. With no surprise, Samsung and Sony announced that their forthcoming flagships – the Galaxy S5 and the Xperia Z2 will be bound with the Snapdragon 801 chipset.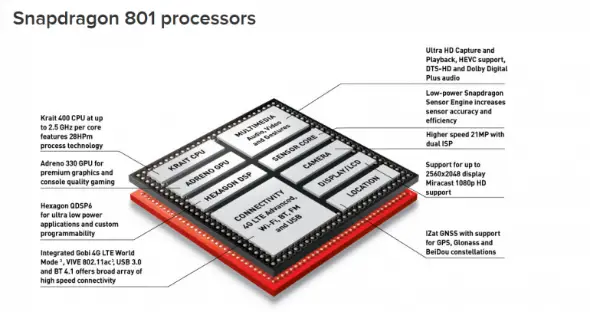 The new Snapdragon 801 chipset touts a 2.5 GHz CPU, which is a bump from the 2.3 GHz in the Snapdragon 800. Also, this new chip includes enhancements in the ISP (Image Signal Processing), GPU and memory interface speeds.
Interestingly, Qualcomm has designed the Snapdragon 801 in a way that it is completely software and pin-to-pin compatible with the older version, hence it is easy for the manufactures to swap the 801 for the 800. This has been done to incorporate the Snapdragon 801 chip in those devices that will be announced before the end of this month, especially those gear that were unleashed at the MWC 2014 expo.
Now, when comparing the Snapdragon 801 with its predecessor, it is clear that the new one includes a 14% faster Krait 400 processor and a 28% faster Adreno 330 GPU. Besides these, the 801 features an amazing 45% enhancement in the camera sensor processing speed.
On the data connectivity front, Qualcomm has integrated support for multi-band 4G LTE Cat4 modem with Wi-Fi 802.11ac compatibility. Furthermore, the Snapdragon 801 adds support to DSDA (Dual SIM Dual Active) and eMMC 5.0 that paves way for quicker access to the internal storage space. In some models, the chipset boasts the CPU, ISP and GPU and memory interface speeds as mentioned above.
As per a study by AnandTech, the Snapdragon 801 has several benefits over the Snapdragon 800 apart from providing faster CPU clock speeds. Specifically, it is to be noted that the enhancement in the IPS frequency from 320 MHz to 465 MHz in two variants of the new chipset is considerable. As the advanced smartphones and tablets will use internal storage faster, the eMMC 5.0 support is needed as it offers faster transfer speeds up to 300 MB/s, while without eMMC 5.0 is could be less than 200 MB/s only.
Overall, the Snapdragon 801 is said to deliver high-end 3D gaming experience, faster loading of applications and web pages, smoother frame rates in games, quicker processing of the camera output, lower power consumption and increased battery life than the Snapdragon 800 chipset.