Moto G is the one of the hotest selling smartphone around and since it is selling in huge numbers, several bugs and problems have been identified which are plaguing Moto G users worldwide. Good thing is that Motorola has acknowledged the issue and is working on a fix, but before that happens, we can take advantage of huge Motorola community worldwide and discuss some of the fixes.
Two steps you must follow before you fret about Moto G issues:
1)Reboot your Moto G- Just turn off your smartphone and restart it. As simple as it may seem, it can solve several software calibration issues and make your phone behave.
2)Reboot in Safe Mode – If problem persists after rebooting, test it in safe mode. To enter safe mode,
– long press Power button
– Now long press the Power Off option
– Press Ok to enter Safe Mode when prompted
In safe Mode, all third party apps will stop working. Run it in safe mode for a few hours and if the glitch seems to have vanished, you will know that third party app or apps are to blame.
Lets now discuss a few other Moto G problems which might be bothering you along with some fixes.
1) Battery Percentage Unstable
Your battery percentage might be suddenly jumping to any number from 0 to 100 or it might drain overnight to less than 10 percent without anything taxing it. To get around this issue, let your battery drain to zero and then charge it to 100 percent. Repeat the process while your battery learns calibration. This will solve your erratic battery behavior issue. You could also try the safe Mode approach mentioned earlier to eliminate any third party App that you downloaded, as a possible culprit
2) SIM card not detected
If your Moto G is not detecting SIM card after KitKat Update, Motorola is working on this issue. Meanwhile, you must test it with a different SIM card to know for sure that your SIM card is not faulty. Especially if you are using a micro SIM with an Adaptor to convert it into a Namo SIM, test it with a Nano SIM.
If you are running Android 4.4 KitKat, Turn off your 3G/ 2G Data connection to temporarily solve this issue.
3) Camera Not Starting
If you are using preloaded camera App and it is crashing frequently after update or if it is not launching at all. Follow these steps
– Go to Settings>>Apps>> Camera
– Hit Force stop, clear cache and clear data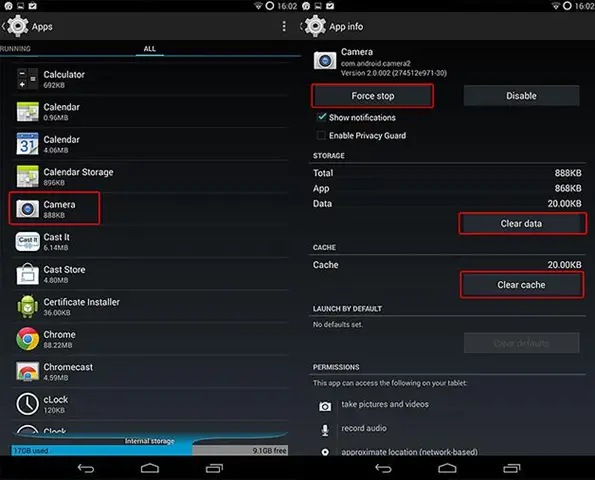 This is akin to reinstalling your camera app, only faster and will solve your camera issues. Make sure to try the safe mode first as mentioned at the start, to eliminate the possibility of a third party app which deals with camera (Like Chat messengers), messing things up
4) Screen is going blank and rebooting
This is one of the most common problems being reported on faulty Moto G phones and there is not much to do. Motorola is expected to deal with it in its next firmware update. Many users have worked around this issue by doing a full factory reset.
– Go to settings >> Backup and Reset
– Tap the Factory Reset option, but back up important data as you will lose it after this clean swipe.
5) LED Notification not working
Some users have reported that their LED notification light is not working and doesn't blink when they receive notifications. The problem can be easily solved by downloading and installing Motorola's Notification Light Widget. Once done, you can remove it and your LED lights will keep working.
6) Battery is taking too long to Charge
If your Moto G battery is taking too long to charge, it's hardware issue. You need to replace your USB cable and try a new cable with output rating between 500 mA and 1.5 A.
Try the new cable after completely discharging the device and let in remain switched off for about 20 minutes when you plug it in with the new cable.
7) Problem side-loading apps
Side loading apps is one of the major advantages of Android eco system. The first thing to do is go to Settings>> Security >> tick the box allowing apps from unknown sources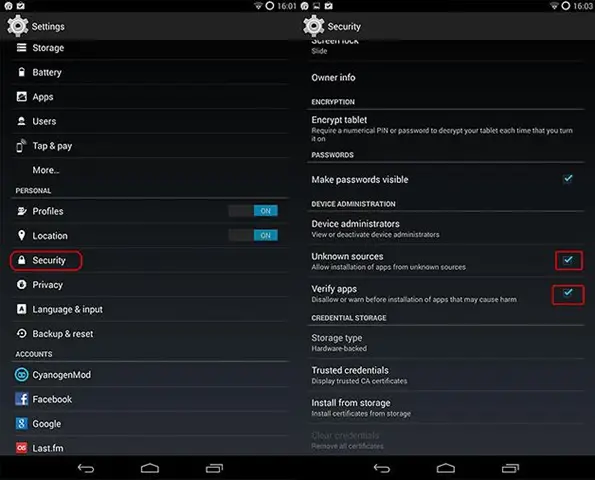 In case you have already done that and obtain a parse error while side loading Apk file, first try to reinstall apk and check if the app is compatible with your smartphone.
You can also try loading the APK on google drive and directly installing it from there. If your Moto G is rooted, you could download ES File Explorer and check the "Install APK automatically" option from menu.
8) Dropped WiFi Connection
Some Moto G users have been experiencing erratic behavior of WiFi after KitKat update. This could be due to several reasons and your smartphone might not be the problem. Still you can try installing a firm ware update which Motorola recently released.
– Go to Settings>> About phone>> System Update. It will show you if the update is available for your model
– You can also Switch to 2G Network by following these steps: Settings>> More>> Mobile Networks >> use 2G networks. This has resolved this issue for some users
– Check your router and if MAC filtering is off
9) Speaker Audio is not Loud and clear
As the speakers are present at the back, you can expect some sound to be muffled when it is resting on the back. Try the audio quality with a good stereo headset. If you are still dissatisfied by what you hear,
– You can go to settings >>Sound>>Audio Effect
– You can now toggle with sound profiles to find the one which suits your taste
10) It is Making Weird Noises
Some users are complaining that their Moto G is making weird sound, especially when it vibrates. In case it sounds excessive you should contact Moto care. You can also try a Moto G case which will protect your phone from any physical damage.
To get rid of the annoying sound you could do the following
– Go to Settings>> Sound
– Turn off 'Vibrate on Touch' and 'Vibrate when ringing'
– Go to Settings >> Language and input >> Google Keyboard Settings and turn Vibrate on key press off.
Should i still buy Moto G?
In spite of all these issues, Moto G is a decent performer. You can find such bugs across all brands including big guns like Samsung and Apple. Good thing is that because of vast Community support and large number of users, you can expect Motorola to push timely updates. Most of the problems that users face will be due to third party apps. In case you are planning on buying Moto G, you could go ahead and buy it and get it replaced in first 30 days if you get a faulty handset. You could also wait for the bug fixes to arrive before for a few weeks before installing KitKat update.