Global online retail giant Amazon will soon launch its first smartphone after successful Kindle range of tablets and e-ink readers. First images of the smartphones have now surfaced, wrapped in a shell to conceal the actual design, but you can get a glimpse of unconventional camera set up on the device.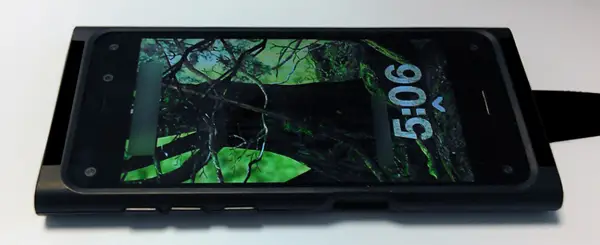 The images of the prototype were leaked by BGR and the smartphone is expected to be official in a couple of months. Amazon's smartphone will come with total 6 Camera setup. One conventional 13 MP rear camera for primary photography, 1 front camera for video calls and four IR cameras for depth sensing.
These additional cameras will track the face and eye coordinates of the user with respect to phone's display, in order to render a glass free 3D experience. That's right. Amazon software will make constant adjustment using the collected data for effective 3G experience. BGR sources further reveal that the smartphone will feature 2 GB RAM paired with Qualcomm Snapdragon chipset.
The display will be 4.7 Inches in size and feature 720p resolution. On this display, the 3D aspect will be applied to wallpapers, icons, etc. Reportedly, Amazon is also hiring developers to provide with several 3G Apps to make the standout 3G feature more appealing.
The prospects of 3G smartphone technology are very appealing and we can imagine all the fun we could have walking through product libraries with popped up 3D images. It's still too early to say if the first Amazon phone to introduce glass free 3D experience will be a potential migraine source or will be gratifying.
Source: BGR