LG announced a feature called Knock Code, which is a groundbreaking aspect that allows the users to choose from over 80,000 security combinations that can be entered on black screen with two to eight taps. Announced for LG G Pro 2 at the Mobile World Congress 2014, the Knock Code is the most effective smartphone security and unlocking system available in the market.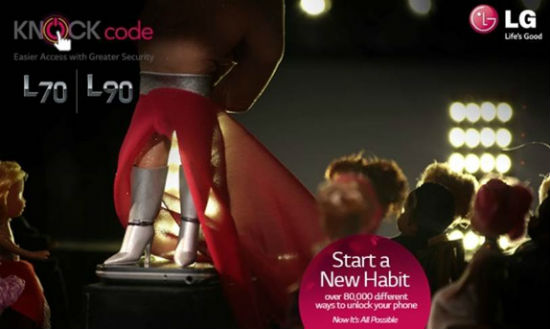 With the launch of Knock Code, the Android KitKat based phones such as LG L90 and LG L70 included this aspect as a regular feature on all the LG smartphones. The USP of this feature is to work on the whole display with a consistent rate of recognition.
LG has started a new campaign to promote the Knock Code concept. Talking about this new contest, Amit Gujral, Head of Mobile Phones Marketing, LG India was stated quoting "To introduce this exciting Knock Code feature LG India is launching an innovative digital campaign for smartphone users in collaboration with Eccentric Engine. LG's unique story concept brings out five interesting characters, namely, the Footballer, the Kickboxer, the Fashionista, the Unstoppable and the Dancer."
The first phase of LG's digital campaign focuses on individual's MyCodeMyStyle and #KnockCode as a teaser, and will be initiated with creative images. In the second phase of the campaign, a '2 videos per day' contest will be launched for the users, wherein there will be a set of two videos created for each of the characters. These videos will then be seeded on Facebook and Twitter, in an effort to position the #KnockCode feature."
Updates of these contests will be featured on the @LGIndiaTweets and LG India Facebook page and the winners will be rewarded with a LG L90 or LG L70 handset.