Waking is a pretty difficult task, isn't it? Gone are the days when alarm clocks could actually wake us up. Today we just hit the snooze button and go back to sleep. But what we don't see is that alarms are set because of a certain reason and you might miss something if you don't wake up on time. Smartphone applications have replaced the alarm clocks and today we have for you 5 applications for android that will surely help you wake up.
Walk Me Up! Alarm Clock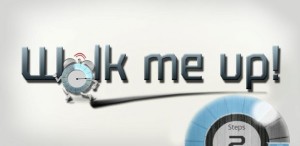 This one of the coolest alarm clock applications that we've come across and that is why it has made up to the top of the list. It stops ringing only when you have walked a certain number of steps or else it just won't. If you think you can cheat by shaking the device, you can't. The application has algorithms to detect if you are actually moving or shaking the device and if you try to cheat, it punishes you by increasing the number of steps due to be walked. You can download it here.
WakeVoice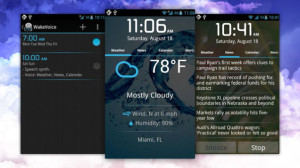 WakeVoice as the name suggests is a sort of a personal assistant that helps you wake up. You need to talk back to it after waking up as to what do you want it to do as in shut down or snooze. But after you are done talking, it starts talking back. It gives you some daily information like the weather, news, radio or a customisable message of your choice. So it surely makes your morning easier and you can wake up with a smile on your face as you choose what to hear every morning. You can download it here.
Talking Alarm Clock
Talking Alarm Clock talks back to you in the morning with your own voice or the voice of the person you love with the record vocal function it has on offer. You can set a personalized sentence as well and the application will play the same in the morning. So if you have an important task for which you need to wake up and be on time, the application will wake you up telling you about the same and we think it is a bit cool. You can shake the device to snooze it and you get a really large snooze button so that you are saved from accidentally turning it off. You can download it here.
I Can't Wake up! Army Alarm Clock
This is the alarm clock which is meant for the lazy bones out there who just can't get up no matter what. With this alarm clock, we believe that you will surely wake up courtesy of the eight different wake up tasks it comes with which won't let you turn the alarm off until you finish them. And by the time you are done doing them, you'll be awake for sure. These include Math, Memory, Ordering, Repeating, Barcode scanning, rewriting the text, shaking and making pairs. It can be downloaded here.
Army Alarm Clock
This one is the only paid application that made it to the list but we just couldn't help but get it in the list. You need to pay Rs 50 for it. So this application comes with a Sergeant's voice to wake you up but the fun part comes in when you put on the snooze button. The voice gets madder at you and becomes meaner which somewhere makes you feel bad about sleeping in late. It surely is a strict application but you'll thank it later when you start to wake up on time. You can download it here.
Bonus Tip – Timely Alarm Clock
Timely alarm clock is the one you should be looking forward to if you find waking up from a single device a bit difficult as it offers cloud integration. You can set and turn off all your alarms at once across all devices. It offers you a let of themes to choose from, a slew of waking up tasks to ensure that you actually get up and a stopwatch too for that added functionality. You can download it here.
Conclusion
I am sure above mentioned Alarm clocks will make waking up more fun for you. If you start getting irked by one, you can always try second. Do let us know if you could wake up as a result of these applications. Other similar applications include Alarm Clock Xtreme, Alarm Clock Plus,  and SleepBot.