As the digital wave inundates us, most of your day to day activities will be few touches away on your Smart Gadgets. Booking tickets via PC is a common place now but what if you want to book your tickets while on the move? Developers have again come to the rescue and build apps to help you book train tickets on the go. Let's take a look at some of these apps.
Indian Rail Train & IRCTC Info
Indian Rail app is a very popular app for finding train, booking e-tickets, checking seat availability, train status and a lot more. The app also gives you the flexibility to view information of train routes and check PNR status offline. A left hand slide in menu has all the settings, seat map and the save option.
The app is a hit with more than 1 million downloads with more than 40,000 rating it as a 5 star app. Latest update brings you the cancellation charges on the page when cancelling a ticket. The interface is easy to use, rich and navigation across pages is smooth. On top of that you can save and share the information via DMS, email, WhatsApp and more.
Ixigo indianrail train irctc
Ixigo indian rail train irctc is an award winning app which gives you all the information about the trains in India. You get to check PNR status, live train status, search trains and live station status. You not only get this but also a feature to view the seat/berth map in various trains like shatabdi, garib rath and also for the various classes.
This award winning app has garnered more than a million downloads and a super rating of 4.4 stars. And yes you get to book tickets from this app as it directs to the official mobile page of IRCTC.
IRCTC Mobile App
IRCTC Mobile App enables ticket booking, PNR status checking, timetable and also features a search option. The app contains the bookmark of the mobile version of the IRCTC mobile website where you are directed when you click the ticket booking tab.
The app has close to 1 million downloads and has a very small size. So you need not worry about the size it takes on your phone as it does not store any data on your phones storage.
IRCTC Ticket Booking by Spice Digital Ltd
IRCTC Ticket Booking is an all in one reservation app. You can check PNR status, spot the train, timetable, check seat availability and check the train fare on top of reservation of course. The UI is vivid with multi coloured icons.
Users can register from the app itself if they don't have an IRCTC account. Added features include Tatkal booking, berth and meal preferences. The bright side of the app is you can register for an IRCTC account without the need of internet.
IRCTC Mobile Booking 2014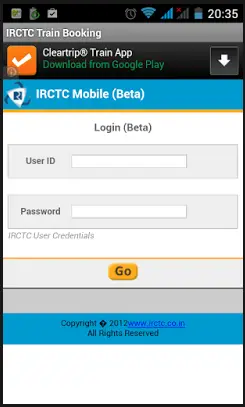 IRCTC Mobile Booking 2014 provides the facility of booking train tickets from your smartphone. The app directs to the IRCTC official mobile website. It does not save any data and passwords on its server.
The app is safe and time saving, so you must not worry about someone hacking your account and misusing it. You can also book tatkal and general tickets through this app. Users rated it as a 4 star app which is impressive.
Other similar apps
Other similar apps are IRCTC Railway Booking Online, IRCTC Mobile Application and IRCTC Ticket Booking.
Conclusion
These apps are pretty useful when you  have to book your tickets on the go and in a short time. There are no security issues with these apps , they are 100% safe to use and book tickets. You should not worry about the online transaction taking place as they take place through secured payment gateway.