These days, everyone's lifestyle is dominated by smartphones and tablets as they have become the necessities to do any chore starting from creating a to-do list to saving shopping plans and almost everything. But, there are times when you will need to avoid such devices and one such instance is while driving. It could be distracting if you constantly receive messages and emails while you are driving. Of course, you can opt for driving mode or blocking mode options that will leave the device silent for the specified duration, but what if there is something important and you want the phone to read out the message or email for you? There are a handful of applications that can be downloaded and installed on your device to read out the messages and emails.
ReadItToMe
The ReadItToMe app reads out all the incoming calls, messages and other app notifications and takes up the task of translating the text speak into normal language. It translates the messages into proper English and also allows you to add your own preferred words to the UI. Unlike any other app, this one can set to run automatically once the device is connected to a Bluetooth device. There is a Voice Reply feature in the Pro version of app that allows you to reply to or call any contact using this service in a hands-free manner. With the Pro version, you can also enable it to read app notifications aloud.
Touchless Notifications Free
Using the Touchless Notifications Free application, you can listen the notifications and alerts when you are busy with something else. It will help you by speaking and displaying the notifications in full screen when you are busy or when you are wearing a headset or headphones. All you need to do to avoid missing any notification is to download this app and use it. In the Pro version, you will receive personalization options, hide notification icon and more features. It works fine with all the notifications such as calls, calendar, Gmail, Hangouts, text messages, Google Now and applications.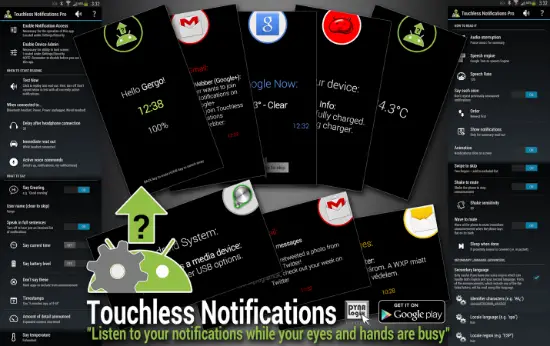 Speak Notification
Reading incoming notifications is a great help especially when you are driving, running, cycling or working out. The Speak Notification app reads the incoming messages and you can look at it later when you are free. Install this app and you can be relaxed while you are on go as it will handle all the other things of keeping you updated to what you are receiving at the moment.
SMS Reader
The SMS Reader is an app that captures the incoming SMS and reads them aloud automatically. It supports additional features such as read previous SMS, read caller name when you get a call and delete SMS. It can read text in five different languages and you can also adjust the reading speed. The app facilitates in sending a reply quickly using the popup window.
Agent
Agent is one of the essential apps that can save the battery by muting the phone with you are in meetings and intimating only urgent calls and messages while you are asleep. It's Drive Agent can also be configured to read the messages aloud, respond with voice, auto responds to the messages and callers while you are busy. There is a feature called Battery Agent that allows you to set a percentage below which it will turn off the battery draining aspects such as Bluetooth and reduce the screen brightness. The Parking Agent feature will remind you where you have parked your vehicle with the help of Bluetooth. Besides these, there are other features such as Meeting Agent and Sleep Agent as well.
Other Apps
There are other similar apps such as DriveSafe.ly® Free SMS Reader, Speaking Phone Free, Speak Drive Text Lite and more. In addition, the smartphones come with inbuilt features such as Car Mode and Drive Mode delivering similar results.
Conclusion
The applications that are mentioned above will definitely be of help when you are driving or busy with some other task and when your phone is away. They will help in keeping you updated with the notifications by reading the alerts to you aloud. With these useful apps you will not miss any message, email or call even if you are busy.