Smartphones can store large amount of data in them and sometimes it becomes important to transfer these files to another smartphone. So what is the fastest way to transfer data between smartphones? Smartphones can use Wi-Fi direct, Bluetooth, cloud apps, FTP server to transfer data from one to another. Let's look at some of the popular apps which use these services to transfer data from one to another.
Fast File Transfer
Fast file transfer is an alternate to Bluetooth sharing. Now even older phones can send files with speeds like Wi-Fi direct. This app is recommended for sending large files in a jiffy. The app sends data via Wi-Fi direct and you get transfer speeds up to 20X. The app is easy to set up and the best part is you don't need to install the app in receiving phone.
The receiver just has to flick his Wi-Fi switch, connect to the sender's hotspot, open his browser and enter the address. And boom you receive the file in a flash. The latest update features NFC pairing which is still in beta stage. Fast file transfer has an average rating of 4.1 stars and close to 1 million downloads.
Bluetooth File Transfer
Bluetooth Flie Transfer helps you browse, explore and manage files of any Bluetooth ready device using File Transfer Profile (FTP) and Object Push Profile (OPP). You can also receive files and send contacts. This app has the fastest file browser and you can also customize the view of your files.
Bluetooth file transfer allows up to 7 concurrent Bluetooth connections at a time. The interface is clean, neat and fast. You can even compress, uncompress and extract zip files. The app on the overall is good and provides a lot of additional features than just the basic file sharing thing. The app has an average rating of 4.3 stars and more than 1 million downloads.
Super Beam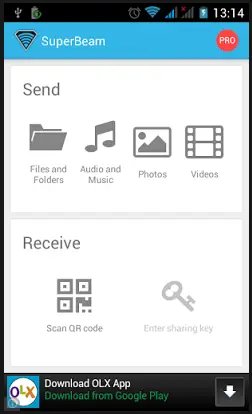 Super Beam is another popular app to send and receive files from one smartphone to another. It uses Wi-Fi direct to send files. Devices can also be paired using QR codes, NFC or manual sharing key. Manual sharing key is available for the PRO version only.
You can send files, music files, pictures, videos and almost anything with Super Beam. Sharing is easy and you do not necessarily need to install Super Beam in the receiving devices. SuperBeam switches to hotspot mode automatically for devices that doesn't support WiFi direct. Also, it can use existing WiFi network connection between devices in case WiFi direct fails.
Cloud storage apps
Cloud storage apps like dropbox, google drive, one drive and box are the most popular cloud storage service providers. These apps are available for windows, Android and iOS operating systems, so they allow accessibility across all platforms and gadgets be it a smartphone, PC or a tablet.
These apps are free and offer between 5-15 GB space on the cloud. You can store files, pictures, videos, and almost everything. Obviously you also have the option of sharing your file so that other user can download them. These apps offer more space and features but it comes with a monthly fee. These apps help you to transfer large amounts of data between two smartphones but the download rate depends on the network speed. One major advantage is that the phones need not be in close vicinity, they can be in different cities as you are transferring the files via the internet.
File Transfer
File Transfer is the easiest way to send and receive files and folders from other smartphones, tablets and computers. File Transfer is available for all platform and hence OS is not a barrier for this app. The interface is quite simple and neat with the explorer displaying the files and folders along with the import and export button.
Devices do not need to be configured there is no need to enter an address for the devices to connect. File is transferred directly via the local network. Obviously both devices need to be connected to the same local network. A limitation in the free version of max 5 MB file size is a turnoff.
Other similar apps
Other apps for file transfer between smartphones are FTP server, WiFi File Transfer and Send Anywhere (File transfer)
Conclusion
These apps use Wifi Direct, local network, FTP server, Bluetooth, NFC and cloud services for transferring data. If both the host and the guest smartphones are nearby then the best and the fastest method is via Wi-Fi direct. Tranfer via Wi-Fi direct is amazingly fast and reliable. But if you are looking to transfer data over long distances then cloud services will come at your service though the speed will be network dependent.