Monitoring and capturing images secretly and anonymously might not always a bad thing – users may need to perform these tasks for completely legal purposes, say to keep an eye on the activities of a child, or to play a prank on a friend. There exist some excellent apps on the Google Play Store which provide you with the functionality to do just that, and while it is very easy for someone to misuse these apps, they do fulfill a very useful purpose.
While using these apps, it is essential for the user to realize that he should respect the privacy of every individual and these apps function in the grey areas, on the line between what is right and what is wrong. If the motive behind using them is morally justifiable, then users should not have any qualms about using them. So without further ado, here are some of the best apps we have found with Secret, Hidden, or Spy Camera features.
Secret Camera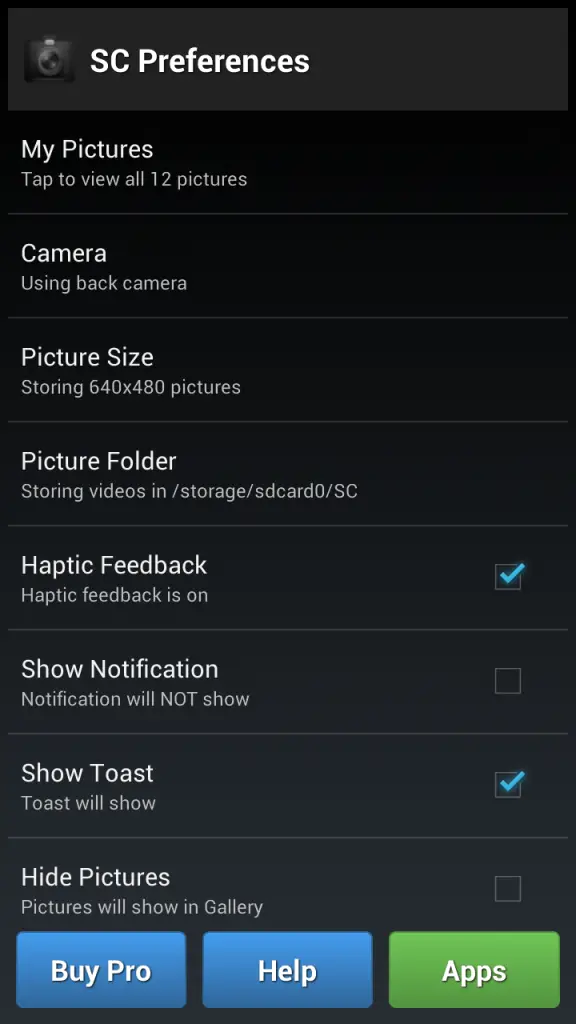 The Secret Camera provides a noiseless option to click photos in the background. The USP of this camera app is it's ability to take pictures with the Volume keys. Users merely have to tap the app icon once, to start taking the camera engine. Once started, the app takes picture whenever the Volume Down button is pressed. A pop-up toast would be normally displayed and haptic feedback would be felt when this button is pressed, but the user has options to disable both of these.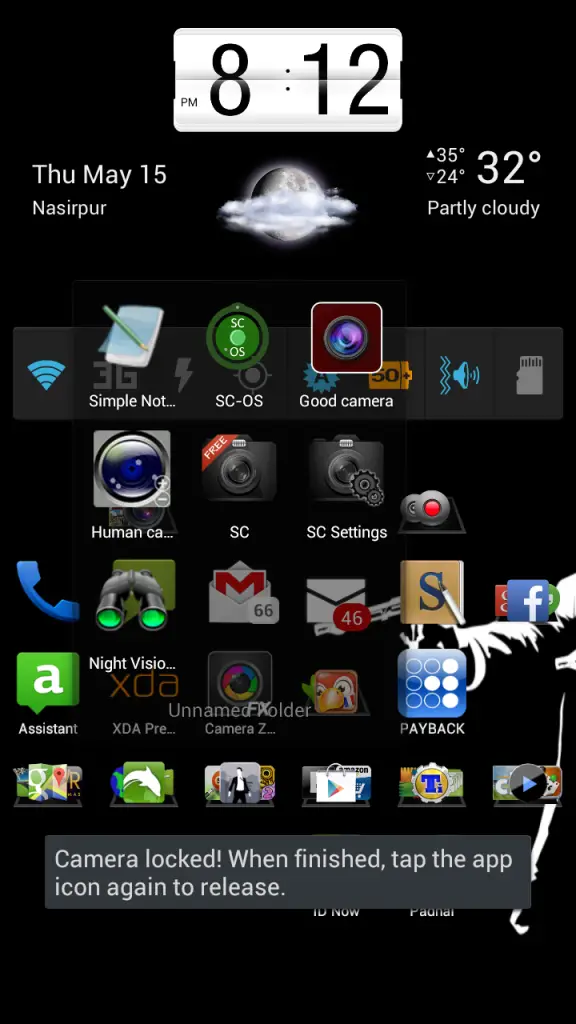 Users can also disable the Camera active notification which is displayed when the Camera is running. The photos which are clicked using the app can either be viewed through the Phone gallery or accessed through the app itself. If needed, users can choose to hide these Photos from the Gallery too.
Mobile Hidden Camera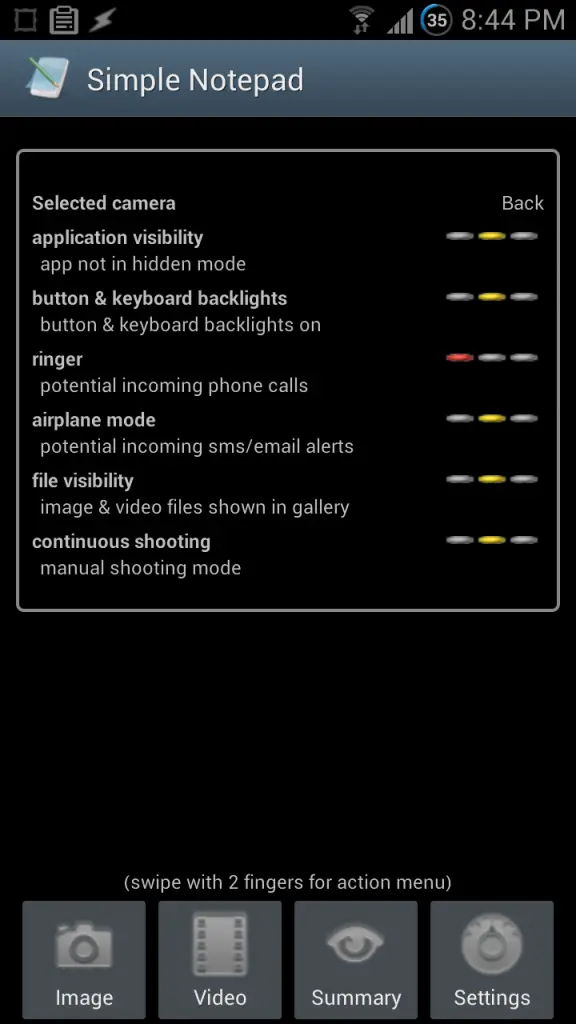 Mobile hidden Camera is an app for taking hidden pictures with over a million users on the Play Store. Besides taking pictures, the app also provides the feature of taking hidden videos. The app becomes available as the 'Simple notepad' application in your app Menu, to avoid detection. Users can select 'Image' from the app Home menu to enter a Black screen, where users can click images just by tapping the screen, without any camera display on the screen. Similarly, users can select 'Video' to take videos secretly.
Users can choose a 'Super Burst Mode' in settings for super fast shooting. Video recordings are also automatically split into small files for easier storage. Another useful feature of the app is the ability to select camera resolution for both the rear and the front camera of the device, given that a front camera is provided along with a rear camera lens.
Spy Camera OS
Spy Camera OS is an open source spy camera project which provides a multitude of features to the user. Its home screen consist of a simple and compact camera display unit which is movable to any place on the screen. Users can select whichever Camera lens they would like to use and Capture a photograph from this unit. They can minimize the app to notifications using 'Minimize', and take pictures via pressing the volume buttons, or use the 'Black' option to take photos by touching a black screen which comes up.
Other options include the 'Burst' option for burst shots, 'Auto' option to take continuous pictures after, each after a minimal interval, and a 'Face' option to auto-capture images on detection of a face. There also exist settings options which allow users to change the camera resolution, Auto-capture delay, no. of images in one Burst shot, size of the Video recording file etc. among others.
[High Quality] Silent Camera
The Silent Camera becomes available as the 'Good Camera' in your app menu. It allows user to take photos on a black screen with the help of the volume keys, and through screen touch. Continues shooting can be achieved by holding the volume-up button. Users are notified on the completion of the image capture through vibration, and they can turn off this option if desired. Users can also increase the camera speed. The app comes with a small widget which can be placed on the Home screen and will take the user directly to the black screen mode to start taking photos.
USpyCam
The USpyCam app provides users with a very clean and easy interface which can be used to snap photos and take videos secretly. A small camera display preview window opens on the home screen along with exactly five buttons for taking photos, videos, toggling the preview window, settings, and other app suggestions from the developer. Users can choose to hide the preview window to take photos secretly.
In the settings menu, users disable/enable notifications, include a time stamp on the photos, choose to snap on volume key, choose the quality of images etc. One feature that we really liked on this app is the ability to take videos as long as needed without breaking them into smaller parts, which is missing in most hidden camera apps.
Other Apps
There are various other apps available on the Google Play Store which can be used to take Photos and record videos anonymously, with some degree of success. Some of these apps are Spy Camera Pro, Secret Video Recorder, Spy Video Recorder etc. Spy Camera goes one step ahead of the other apps and also provides secret audio recording as well.
Monitoring Smartphone Camera Feed from Elsewhere
There are certain apps available on the Play Store that allow smartphones to act as surveillance cameras. The feed from a smartphone camera or device can be accessed using WiFi or any other data connection on a separate PC, Smartphone or Tablet device. Thus users can keep an eye on their homes, offices etc. from elsewhere.
Air Droid, IP Webcam, WebOfCam Surveillance etc all provide this function, an help in monitoring activities from a distance. Users can use such app for providing better security to themselves and their families.
Conclusion
Secretly taking pictures of strangers might not be forbidden by the law but can be harmful if done with a malicious intent. Not only is it morally reprehensible, but users could even suffer legal repercussions on the charges of invasion of privacy in such a case. Therefore it is advisable to use this app only for constructive purposes.
These apps provide users means to have some fun with friends, and might also help them take some precautionary steps. When used in the correct way, these apps turn out to be very useful for the users.